Many new business owners aren't aware that there are grants available to help small businesses, and they are missing out on valuable financial assistance! Not having enough money while starting your new cleaning business can be stressful, but there are grants you may qualify for that will assist you with some of the startup funds you'll need. Our guide will help you determine if a grant is a good choice for your new cleaning business.
The process of getting grants for your new cleaning business includes determining if you have the time to look for grants, using the right websites to locate legitimate grants and properly applying for grants that you qualify for.
Determining If You Have the Time
The biggest factor you need to keep in mind when you are debating on applying for business grants is knowing the amount of time that it will take. Finding and applying for grants is not a small endeavor and will take a large amount of time to do. If you are short on availability in your schedule and are not looking to hire any assistance yet, you may want to consider another route than grants.
The first part that takes time is locating the grants. Although there are great resources that will list available grants, these websites often have several grants you will have to read through to see what grants you will qualify for.
The second part of grants that can be time-consuming is applying for the actual grants. Since most grants will include lengthy applications that need to be filled out, the amount of time applying for grants can add up. It is important to not rush through the applications, so you will need to put aside enough time to thoroughly fill out your forms.
If you don't have a large amount of time available to look for grants yourself, we recommend looking into hiring someone to help you with this long process. Although the business owner should be filling out the actual application, you can still enlist help when it comes to looking for the grants you may qualify for.
To have someone help you look for grants you may qualify for, you will need to supply them with the trusted websites where they'll locate the grants and ensure they understand what your qualifications are. This person should have basic knowledge of your business to help them determine what grants you qualify for.
The last factor in determining if you have the time to apply for grants is the amount of time it will take to receive the finances. Grants are not a quick way to get funds to start your business. It could take up to a year to receive your grant money. If you need funds for your business right away, you may want to consider other options like a business loan.
Check out this article to get some ideas about cleaning business checklist.
Using the Right Websites to Locate Grants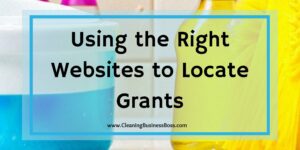 Once you have decided that you will find the time to look for business grants, the next step is ensuring you are using accurate websites to locate your grants. You want to be aware that you may run across websites advertising that they will help you find grants, but some of these sites may be a scam and not safe to use.
There are three leading websites we recommend checking first that will be trustworthy:
www.grant.gov

www.cfda.gov

www.sba.gov.
These websites all offer several grants. You won't be qualified for all of them, but you are likely to find some grants that you will qualify for. You need to thoroughly check these sites to find the grants that apply to your business specifically.
The Catalog of Federal Domestic Assistance (cfda.gov) has a full list of federal programs available for all types of organizations and businesses. You will be surprised by the number of grants available through the federal government! For this site, you want to be prepared to look through a very extensive list of the grants available in order to find grants you can apply for.
The Small Business Administration program (sba.gov) has options for partial grant financing, which is provided through private institutions. These are not funded by the federal government. One thing to keep in mind about the SBA is they are also a resource if you're looking into small business loans. They will have resources available you'll want to check out if you are going in the loan direction.
The last place we recommend looking for possible grants is your local government's website. Although not all states and cities will provide grant options for small businesses, there are some local governments that do. To see if this is an option for your cleaning business, you will want to visit your local government's website.
The most important thing to keep in mind when looking for possible grants is to make sure you only visit trustworthy websites. You will be providing sensitive business information when you apply for grants, so it is important to only submit information to valid websites. You want to avoid any websites that may appear like a scam.
Applying for Grants You Qualify For
The last step in securing a grant for your new cleaning business is the most important step of all, applying for the grants you qualify for! This is not a step you want to rush through. If your applications are not complete and accurate, you will take the chance of not qualifying for the grant and not receiving financial assistance.
The two most important factors in applying for grants is making sure all your information is correct and ensuring that everything is filled out completely. If any of the information you include about your business is not accurate, you can end up being disqualified from receiving the grant.
It is important to read all the small details to make sure that you are sending everything that is required. It is common for grants to request additional documents or certificates along with your application. You want to take the time to make sure that you've included everything that is required for the specific grant you're applying for. Keep in mind that every grant will be different regarding what they require you to turn in.
We recommend having your business plan completed prior to sending in grant applications. It can be common for programs to require your business plan when you turn in your documents to help them easily evaluate your business.
Most grant programs will not let you make any edits or changes to your application after you submitted it. Therefore, it is essential that you make sure everything is correct before you submit the final application. You want to really take your time with each application.
Before you submit your grant applications, we recommend having a trusted family member or friend look over your application. By having a second pair of eyes evaluate the form, you will be less likely to make any mistakes or miss any information.
Once your application is completed and filled out, you want to make sure you submit your application through the method that is requested. Depending on the grant, you may provide the information online, or they may request that the information be mailed in.
Business grants are an excellent way to get financial assistance for your new cleaning business. By following our guidelines listed above, you will be on your way to securing the business grants you will qualify for and having more funds to start your business properly!
Wants some advice for your cleaning business? Check out our article here.
Frequently Asked Questions
How can I fund my cleaning business?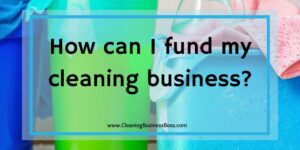 If you do not have the funds to start your own cleaning business, there are two separate options we recommend that will help you get started. You can either look for business grants you may qualify for, or you can apply for a business loan.
Fortunately, funding a cleaning business is cheaper than starting other types of small businesses. Your main expenses to start a cleaning business will include your business license and any required permit, along with cleaning supplies. If you already have a vehicle for personal use, you can use your car to get to your cleaning jobs. Most cleaning supplies can be purchased at your local discount store as well. You can add other tools as your finances increase.
What are the main differences between getting a business grant and a business loan?
The main difference between a business loan and a business grant is you don't have to pay the latter back. However, if you apply for a business loan, you will have to pay the loan back over time and will also be charged interest for the loan as well.
The second difference between getting a business grant and a loan is a grant will often take much longer to obtain. Between finding grants you qualify for and applying for them, the length of time it can take will add up. You will not receive these funds right away. However, after you have applied and got approved for a business loan, you will receive these funds relatively quickly from your bank or credit union.
When deciding between a business loan or grant, consider the amount of time you have to dedicate to filling out applications and how long you can wait to receive your financing. If you are short on time and need funds right away, a loan would be a better fit for you. Keep in mind that you don't need a lot of money to get your cleaning business up and running.
To learn more on how to start your own cleaning business, check out my startup documents here.
Please note that the contents of this blog are for informational and entertainment purposes only and should not be construed as legal advice. Any action taken based on the information provided in this blog is solely at your own risk. Additionally, all images used in this blog are generated under the CC0 license of Creative Commons, which means they are free to use for any purpose without attribution.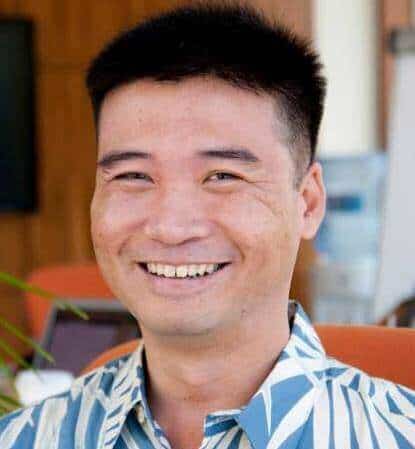 About the author. Entrepreneur and Cleaning Business Fan.
Hi! I am Shawn and I am a happy individual who happens to be an entrepreneur. I have owned several types of businesses in my life from a coffee shop to an import and export business to an online review business plus a few more and now I create online cleaning business resources for those interested in starting new ventures. It's demanding work but I love it. I do it for those passionate about their business and their goals. That's why when I meet a cleaning business owner, I see myself. I know how hard the struggle is to retain clients, find good employees and keep the business growing all while trying to stay competitive.
That's why I created Cleaning Business Boss: I want to help cleaning business owners like you build a thriving business that brings you endless joy and supports your ideal lifestyle.