Cleaning Business Boss eBooks
Below you will find some eBooks (instant digital downloads), packed with cleaning business information. More eBooks are added regularly so feel free to check back often.
Free eBook: The ABCs of What to do before opening your cleaning business.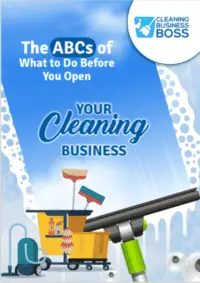 A closer look inside the cleaning business
If you ever found yourself hesitant to start a cleaning business or break into a new venture, then this free guide and email newsletter will give you the confidence you need.
It describes what the cleaning business is about, what it takes to get involved, and where to begin–even if you've never started a business before. PLUS, you'll also learn:
What cleaning equipment you will need.
Choosing a name for your business.
How to hire, train, and maintain a qualified staff.
How to finance your cleaning business.
How to choose a business structure.
The importance of applying for business licenses and permits.
Low-cost marketing tactics.
Avenues of establishing positive public relations.
Ways you can innovate your company.
and more!
To get your Free Cleaning Business eBook just enter your email below.
Enter your email below to get your Free Cleaning Business eBook and Cleaning Business Newsletter.