Free eBook: The ABCs of What to do before opening your cleaning business.
This Free eBook and eMail Newsletter describes what the cleaning business is about, what it takes to get involved, and where to begin. PLUS, you'll also learn:
What cleaning equipment you will need.
Choosing a name for your business.
How to hire, train, and maintain a qualified staff.
How to finance your cleaning business.
The importance of applying for business licenses and permits.
Low-cost marketing tactics.
Avenues of establishing positive public relations.
Plus much more!
Free Cleaning Business eBook and Cleaning Business Newsletter
Enter your email below to get started!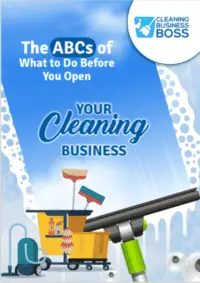 Scroll down below to view some helpful articles to help prepare you in starting your own cleaning business.