There are many ways to gain more clients for your cleaning business.  You could target your geographical area to attract those who will most likely need your services. You can run a series of social media ads and use traditional marketing methods in your neighborhood or city. Distribute business cards and flyers, attend local events, and even use newspaper ads to gain more clients. Finally, having a responsive website that's easy to navigate will help you stay ahead of the competition.
Here are things to do when gaining more customers for your cleaning business:
Establish Location and Services

Have Information Available for Customers to Inquire

Social Media Marketing 

Traditional Marketing

Give Discounts and Offers
Establish Location and Services
Before you can successfully market your business to anyone, you must establish what services you provide and where you can provide them. Determine the geographical limits for your cleaning business. Decide whether you are willing to help those within your entire city or just residents of a few zip codes. Then, make this information readily available as this is what your potential customers will need to know once they find out what your cleaning business can provide specifically.
Establish the type of clients you want to have. You may want to stick to smaller jobs like residential clients in homes, condos, and apartment buildings. Perhaps you have the resources to take on larger projects like office buildings or large stores. To find new customers and meet their needs well, focus on attracting the "right" customers. Being specific about what you clean will generate much better leads, which could turn into clients.
Try reaching out to other, local businesses that you might want to partner with, such as:
Real Estate Agents – clean properties that are being bought and sold

Doctors' Offices – they are required to keep clean environments for health reasons 

Rental Offices of Apartment Complexes – they can pass your information along to tenants, especially when they move in or out

Small Business Owners in the Area – many business owners would like the custodial work taken care of to free up time for other tasks
Have Information Available for Customers who Inquire
Your cleaning business needs to be easily accessible, or potential customers will go to your competitors. It's best to have a website that contains the information that customers need to know. On your cleaning business's website, you need to:
Display your services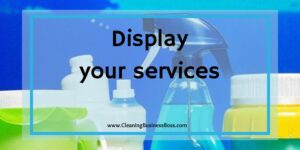 Your visitors want to know what you will clean specifically.
Have your contact information easily visible
Your business's phone number and email address are essential for new and existing clients alike.
Show pricing information and provide free quotes
You can even set up a scheduling app or plug-in within the website to book all your appointments. Free quotes and pricing will help convert more leads to paying customers. Most people like to have an idea of how much money they are going to spend beforehand when scheduling a service.
Rank high in Search Engine Optimization (SEO)
Many customers may not find your website because of a business card or flyer you gave them. Instead, they might search the internet for local cleaning businesses. You need your site to rank high in SEO so your business will be among the first to show in the results.
Reviews
Even though before and after photos demonstrate the quality of your service, people still want to know your customers' opinions. Your cleaning may have been excellent, but what about your attitude and customer service? Were you easy to communicate with? New customers will be curious to know this before choosing your business.
Check out this article to know the companies you can get your cleaning business uniforms.
Social Media Marketing
Social media has dominated the advertising field in recent years because the reach potential can be very high. However, most cleaning businesses operate locally, so you should set your ads to reach those in your area. You can also use keywords to describe your potential customers or their interests to get more, quality leads. It would be in your best interest to use keywords such as:
Small Business
Some of your customers could be small business owners like yourself
Cleaning
The type of service you provide
Home Cleaning
If you offer residential cleaning services
Office Cleaning
They make great cleaning business clients
Professional Cleaning
Because customer service is essential to your leads
Licensed and Insured
This will give your customers peace of mind when doing business with you
Another effective strategy is to engage with other local businesses. Some of their followers may be the type of customers you are trying to attract. You and other local companies can publically endorse one another, so don't shy away from reaching out to businesses in a completely different line of work. By doing these things, you'll attract the particular audience you need. In turn, you'll have leads that are much more reliable
Proof of the quality of your service is always a way to get a customer's trust for a sale. Post before and after pictures to show your potential customers what you provide. Be sure to document any extreme cases. You will blow clients away when they see the transformation of a filthy "before" into a spotless "after."
Traditional (or Organic) Marketing
Pounding the pavement works well for local businesses. Leave your business cards throughout the town. Offer a first-time discount those you meet to get their attention. You can even market your business at local events. If you set up a booth at these events, you can have people sign up for discounts or schedule cleaning services on the spot.
When designing a business card, make sure to specify:
Your business's name 

Your telephone number, email address, and website URL

The areas that you service

Your logo
Flyers are sometimes an even better choice for advertising. Go to residential neighborhoods in your area to distribute your flyers. There are several benefits of using flyers, such as:
More room to include before and after cleaning photos to demonstrate the quality of your service. Try to fit at least two before and after jobs on the flyer.

Flyers can provide more information than a business card. Try adding a discount offer, pricing, social media profile names, or a concise description.

Flyers are, basically, printed infographics. Infographics are a trending method of advertisement and will get the attention of some customers in your area. 
Newspaper ads can also be part of your marketing plan. Occasionally, reserve a spot in the Sunday newspaper with your cleaning business's contact information. You can expect some traffic from older customers as they are more likely to read the paper. This could be great a way to attract more residential clients.
Check out this article to know some of the best name for your cleaning business.
Give Discounts and Offers
Discounts work in different ways to attract and keep new customers. Here are some great introductory offers for your new clients:
A simple discount for first-time services
Most businesses offer coupons or special rates for the first services they provide to a new client. This gives you the chance to prove yourself to your customers.
A discounted membership for services
Have a membership plan in place for weekly, bi-weekly, and monthly customers. Cut the price at sign-up for new customers and watch your repeat customers increase.
Referral Offers
Offer your existing customers discounts or even free services in exchange for referrals. You may want to consider a "tiered" referral program in which your customers receive an increasing number of rewards depending on the number of referrals they send to your business.
Special Discounts
Offer discounts to military families, as many other businesses do. Senior citizens usually need help cleaning their homes, so it's a good idea to give them a regular discount as well. 
Summary
Getting more clients for your cleaning business is simply a matter of using common marketing strategies well. Use a mix of social media advertising and organic marketing; make your information easily accessible; and be clear on what you can provide to your customers.
Remember to target your social media ads to your local area and engage with other local businesses on social media. Pass out your business cards everywhere and attend local networking events, so those in your community learn who you are. Make it easy for leads to come your way with a website that's easy to navigate. Finally, be clear to your potential customers about the services you provide. Your company has great potential to reach your geographical area if you use these strategies. 
Frequently Asked Questions
How much should I spend on online ads?
If your cleaning company services local clients exclusively, you don't need to have a large budget for online advertising. Try Gary Vee's $1.80 a day strategy for your initial ad spend budget. You can also use keywords to boost engagement with your online advertisements. Don't forget to target the area you intend to serve.
What if I don't have any clients yet because I am just getting started?
You have a couple of options to gain new customers without any leads. You can offer free services to family and friends and use those pictures for marketing. You can also provide an insanely low discount to your first few clients. I recommend trying them both, then deciding which works best for your business.
https://enlighteningwords.com/how-to-get-clients-for-a-cleaning-business-fast/
https://www.serviceautopilot.com/13-smarter-ways-market-cleaning-business/
To learn more on how to start your own cleaning business, check out my startup documents here.
Please note that the contents of this blog are for informational and entertainment purposes only and should not be construed as legal advice. Any action taken based on the information provided in this blog is solely at your own risk. Additionally, all images used in this blog are generated under the CC0 license of Creative Commons, which means they are free to use for any purpose without attribution.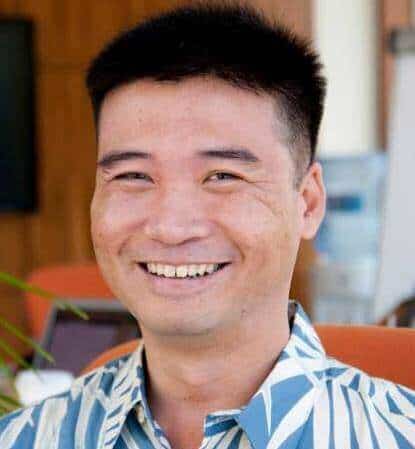 About the author. Entrepreneur and Cleaning Business Fan.
Hi! I am Shawn and I am a happy individual who happens to be an entrepreneur. I have owned several types of businesses in my life from a coffee shop to an import and export business to an online review business plus a few more and now I create online cleaning business resources for those interested in starting new ventures. It's demanding work but I love it. I do it for those passionate about their business and their goals. That's why when I meet a cleaning business owner, I see myself. I know how hard the struggle is to retain clients, find good employees and keep the business growing all while trying to stay competitive.
That's why I created Cleaning Business Boss: I want to help cleaning business owners like you build a thriving business that brings you endless joy and supports your ideal lifestyle.