An important part of any cleaning business is possessing the proper equipment. Without proper equipment, you will be unable to do the work you are hired to do. Sometimes this equipment will literally be the tool you need to complete your job; other times, this equipment will support more relational aspects of your work. 
Different types of cleaning equipment you will use include manual tools such as brooms, vacuums, sponges, cloths, and more, mechanical tools such as vacuums and steamers, more heavy-duty equipment such as various extractors, and other non-cleaning related equipment such as a phone and vehicle.
While not every cleaner will need to have each piece of cleaning equipment, it is important that every cleaner analyzes this list to determine what may or may not be necessary for their specific business.
Manual Equipment and its Uses 
Just because manual equipment is lower-tech does not mean it is any less important than the latest inventions. Being equipped with the proper manual equipment can ensure you are spending less on tools so that you can spend more on other areas of your business. 
Broom & Dustpan 
A longer broom along with a smaller broom and dustpan can both be helpful for sweeping up debris. Smaller messes of debris can likely be handled with a dustpan and mini-broom, but a larger broom will be necessary for sweeping larger areas. A simple sweep can make a world of difference for a kitchen with a lot of foot traffic or even a dirty garage. 
Duster & Polish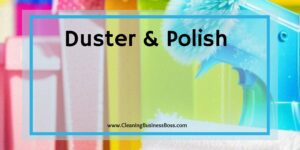 There are many types of dusting devices out there, including dusters that work particularly well on specific surfaces.  
Additionally, particular surfaces may need some polish to truly shine after their fresh dusting. Be sure to make an informed decision about which type of dusters you may need for the types of homes you will be cleaning. Dusting helps to remove the dust that is bound to settle all over, whether there is much activity in the home or not. 
Buckets & Sponges 
Buckets and sponges are helpful tools to take care of more difficult messes. They can be used for deep scrubbing of kitchens, walkways, and more. They may also be necessary for deeper stains on other surfaces throughout the home. Scrubbing helps remove grub and grime. It can also help make your client's home sparkle and shine! Sometimes we don't even know how dirty our home is until we start scrubbing.  
Cloths
While a cloth might seem like a simple tool without the need for explanation, there are multiple different types of cloths and you may need quite a few of them depending on the job ahead of you! 
A microfiber cloth is a very durable cloth option. This material can be washed over and over again without losing its usefulness. They are also extremely soft which can be helpful for more sensitive surfaces. Some people do not like the texture of microfiber cloths. If that is the case, or if you do not happen to have access to one, you can certainly use any type of cloth that you have available to you. 
As noted above, you may want to plan on having a large quantity of clothes available to you. They can be used for multiple situations: 
Wiping stains

Scrubbing sensitive surfaces

 

Dusting

 

Washing windows

 
Abrasives
Sometimes you need a more rugged piece of equipment to clean wood or metal. Abrasive material made of grit papers can be helpful in accomplishing this cleaning without damaging the surface itself. Abrasive cleaning is especially helpful because your clients are not likely to do this type of cleaning in their routine light personal cleaning. By diving into this task, you are really going the extra mile for them. 
Brushes 
Finally, you may need to purchase some brushes for your cleaning business. There are many different types of brushes that could be utilized: hand brushes, toilet brushes, toothbrushes, etc. Having multiple sizes and styles of brushes will ensure you are prepared for whatever you come across. 
Check out this article to know the other supplies needed for a cleaning business.
Mechanical Equipment and its Uses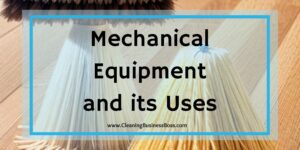 Vacuum Cleaner 
A vacuum cleaner is a very typical household machine, but just because your customers might own one does not mean your clients will actually want to vacuum their own homes. 
Come prepared with your own vacuum cleaner, so you can whisk away the dirt right along with you. Vacuuming will ensure your clients feel refreshed after your cleaning. They might not even have noticed how much dust, dirt, and specks of debris built up over time. When it's all gone, they will certainly celebrate! 
Steam Machine 
A steam machine might be a bit more costly than a vacuum, but it will leave your clients just as, if not more, satisfied with your work. Steam machines clean even deeper, sanitizing as they go. This means bacteria will be removed, as well as additional pests and stains you might not even be able to see with the naked eye. 
Heavy Duty Equipment 
The best heavy-duty equipment to consider is some type of extractor. These machines are the next level up above a general steam cleaning or vacuuming.  
Wet and hot-water extractors bring various surfaces back to their original state. They can be used on multiple types of flooring material as well as upholstery and curtains. While not all cleaners may feel they need heavy-duty equipment for their work, some may appreciate the fact that the very possession of these rarer tools allows them to stand out in their work. 
The fact is, if most other cleaning businesses in your community are forgoing heavy-duty equipment, you may be the one person customers who are in need of this service can rely on. 
Other Non-Cleaning Equipment for Cleaners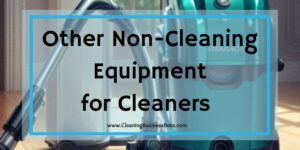 Just because you make a living cleaning house, does not mean your only required tools are cleaning tools. Additional equipment is necessary to run an effective cleaning business.  
Vehicle
While not every single cleaner out there will require a vehicle to accomplish their work, most cleaners will need transportation. Other modes of transportation are certainly viable, but not if you are lugging a large amount of cleaning equipment around to each customer. If you are serious about growing your cleaning business, you need to start looking into potential vehicles to carry all of your tools.  
While this might seem like a huge expense to save up for, it will truly pay off tenfold. Not only does it allow you to offer a wider array of services to your clients, but it also acts as constant advertising. Assuming you put your cleaning business name on the side of your new cleaning-mobile, people are going to see your business's name everywhere that vehicle goes! 
Every time it is parked in your driveway, your neighbors will be reminded of your profession and skills. 

 

Every time you take it to the grocery store, other customers will see that your business exists. 

 

Every time you park your business vehicle outside a clients

'

 home, 

their neighbors 

will see who they have entrusted the cleaning of their house with.

 
Word will get around that you are serious about your business and people will start to notice that your vehicle is always on the move. Consider purchasing a vehicle for your cleaning business if you do not already have one. 
Phone
These days, you need a phone to conduct a successful service business. Preferably, it will be a smartphone that can also offer you an email, texting, and social media capabilities.  
Not all cleaning businesses will require a smartphone, but you will need some way for customers to be in touch with you. This will be helpful for setting up appointments for potential clients as well as providing your customers with a way to reach you if something changes. 
Customers who do not feel that they can get in touch with you will start to lose trust in you. Don't let this happen. Instead, make sure you have an active phone and keep it on you often. 
Camera
While many phones also act as cameras these days, not all of them have the best cameras. If that is your situation, it might be worth it to purchase a cheap camera that you can easily retrieve photos from. A camera will be helpful for providing before and after photos of cleanings you complete for your website and social media pages. Just be sure to get permission before posting! 
A camera will also be helpful to record yourself telling people more about cleaning. Recording and posting video content is one of the best ways to advertise your business online. Doing so gets the word out there about your work in an engaging and authentic way. 
Here's where you can buy supplies for your cleaning business. Check out this article.
Frequently Asked Questions
Where do I post the videos that I should record myself talking about cleaning? 
Two of the best places to post videos online are Facebook and YouTube. 
No matter what type of video content you record for your cleaning business, be sure to post your videos natively on each site. That means post your videos directly to both Facebook and YouTube separately. While it is much easier to post a video on YouTube and just share the link on Facebook, Facebook actually does not give you as much reach if you do this as it does when you post the video natively to Facebook. 
What is the best vehicle to store my cleaning equipment? 
Many cleaners prefer to use vans for the excessive amount of space offered. There are lots of types and styles of vans. As long as you have enough space for your particular equipment, you have a great vehicle option in front of you!
To learn more on how to start your own cleaning business, check out my startup documents here.
Please note that the contents of this blog are for informational and entertainment purposes only and should not be construed as legal advice. Any action taken based on the information provided in this blog is solely at your own risk. Additionally, all images used in this blog are generated under the CC0 license of Creative Commons, which means they are free to use for any purpose without attribution.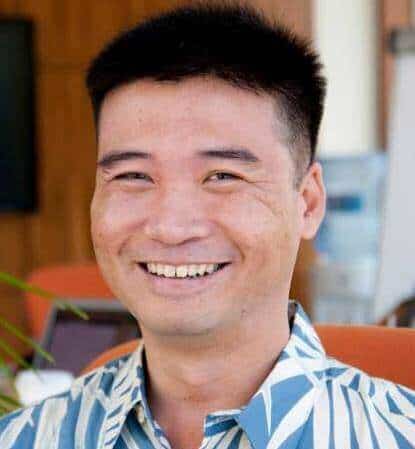 About the author. Entrepreneur and Cleaning Business Fan.
Hi! I am Shawn and I am a happy individual who happens to be an entrepreneur. I have owned several types of businesses in my life from a coffee shop to an import and export business to an online review business plus a few more and now I create online cleaning business resources for those interested in starting new ventures. It's demanding work but I love it. I do it for those passionate about their business and their goals. That's why when I meet a cleaning business owner, I see myself. I know how hard the struggle is to retain clients, find good employees and keep the business growing all while trying to stay competitive.
That's why I created Cleaning Business Boss: I want to help cleaning business owners like you build a thriving business that brings you endless joy and supports your ideal lifestyle.