When you own a cleaning business, your clients are trusting you with their property. Therefore, it is essential to invest in business insurance and get your business bonded. No matter what size your business is right now, this is not a step you want to skip. We have included a guideline on how to get your business bonded and invest in insurance, along with advice on how much it will cost you.
The process of getting your cleaning business bonded and insured includes determining the type of bond you need, deciding on how much coverage your business needs, collecting quotes from insurance companies, knowing the cost you will pay, and picking the right insurance company for your business.
Determining the Type of Bond You Need
The first step in getting bonded is determining what type of bond your business needs. This is vital to ensure that you have the proper coverage. There are two types of bonds that a cleaning business can invest in, surety bonds and fidelity bonds.
A surety bond is generally required by the government to protect itself and the public. Therefore, it is important to check with your state first because some local governments may require surety bonds for cleaning businesses. However, each state will be different in their requirements.
If your state does not require surety bonds, then a fidelity bond will be the best option for you. Most cleaning businesses would benefit from a fidelity bond! It acts as credit between you and your insurance company, like insurance.
The main example of when you would use a fidelity bond is if one of your employees was caught stealing from a client's property. If the employee was found guilty in the court of law, then the insurance company that your bond is through would pay to replace the stolen items for your client.
No matter what type of bond you determine you need, getting bonded acts as an additional level of protection for your business. Like insurance, it prevents you from being personally responsible for theft or loss that may take place at a cleaning job. Being bonded becomes even more important as you hire additional employees and grow your business.
Deciding How Much Coverage Your Business Needs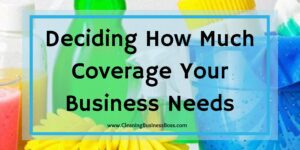 When it comes to business insurance and getting bonded, you want to have an idea of how much coverage you want before you take any additional steps. We especially recommend doing this before you call insurance companies for quotes, so you will have a better understanding of what you're looking for. This will allow you to be more prepared and to know what questions to ask upfront.
Coverage amounts for getting bonded and investing in business insurance can range anywhere from $10,000 to $100,000. The right amount for your business will vary depending on the size of your business and your specific needs. If your business is small and just starting, you can start by investing in a lower amount of coverage.
As always, you want to check with your local government to see if they have a requirement when it comes to the amount of coverage you have. Since some states will require you to show proof of your business insurance and bond before you can apply for a business license, those states will frequently also require a minimum amount of coverage. You can find out the specific requirement for your area by reaching out to your local government.
Coverage amounts will vary throughout the life of your business as your business grows and you hire a bigger team. The amount can easily be adjusted by your insurance company. You are not stuck with the amount of coverage you first decide to get!
You don't have to completely lock down the coverage amount you want before talking to a professional. The main objective is to have put thought into it and have a general idea of what you're looking for. This will prevent you from being persuaded into investing in a larger coverage amount than you may need when reaching out for quotes. Once you know the general range of coverage you want, a professional can help you with the specific details.
Check out this article here to know how to give an estimate on cleaning a house.
Collecting Quotes from Insurance Companies
After you have put some thought into the range of coverage that is best for your business, it is time to reach out to insurance companies to start collecting quotes. By getting quotes, you will have a better idea of what is offered and what the going rates are.
The quotes from the insurance companies should clearly outline what the price is for your insurance package, how long the package is for, the amount of coverage the insurance will come with and what your deductible will be for a claim. These 4 pieces of information will be vital to know when comparing quotes.
We recommend reaching out to a minimum of 3 insurance companies. If you only reach out to one or two, you may not end up getting the best price or value. It may seem time-consuming, but getting multiple quotes from insurance companies will save you money and be worth the time investment in the long run. There is no such thing as collecting too many insurance quotes!
Once you have collected multiple quotes, take the time to really evaluate each quote. You want to pay attention to what each company offers and what benefits come with your insurance. It is important to not ignore any of the smaller details! You want to pay attention to what quotes stand out to you in positive ways.
As you go through the quotes, you can remove any that seem like they are not the best fit for your business. If you gathered a large number of quotes, you want to slowly narrow it down to your top 2 or 3 insurance companies.
Knowing the Cost of Your Bond and Insurance
Before you make your final decision on what insurance company to pick for your insurance and bond, you want to really evaluate the cost of both the insurance and bond together. When it comes to your business finances, it is essential to add up all your costs and know what you're getting yourself into.
With the quotes that appear to be the best fit for your business, you want to ask yourself if you can make the investment in both the insurance and bond financially. Will investing in both put your business finances in jeopardy?
By taking the time to really evaluate the cost of your bond and insurance, you will be less surprised down the road. The last thing you want is to assume the investment will fit into your budget and then later realize you committed to more coverage than you can pay for.
If your budget is on the low side to begin with, you can always start with a lower amount of coverage at a lower cost and then raise your coverage as your business grows. Like most aspects of your cleaning business, it is better to stay on the safe side and only commit to a realistic amount for you in the moment.
The average small owner pays less than $1,000 a year for their business insurance. However, this amount will grow as your business grows. Your specific cost of business insurance and getting bonded will largely depend on the amount of coverage you need, requirements in your state and the length of your policy.
Check out this article to get some tips on pricing for new cleaning business.
Picking the Right Insurance Company for Your Business
Once you have taken the time to really evaluate the cost of your bond and insurance, it is time to pick the best insurance company and policy for your business. This is not a step to take lightly and there is nothing wrong with spending some time to think over the decision.
The things you want to pay attention to when deciding on the insurance company to pick is what services they provide. Do they offer other services you may need to invest in later down the road? You also want to ask what benefits are offered with your insurance policy. You want to have a clear understanding of what comes with your services.
The last factor we suggest paying attention to is communication. Has the insurance company been easy to get ahold of this far? Do they have multiple ways to reach out to them or your specific insurance agent? This will be information important to know if you have to file a claim later on. It is better to be aware before choosing the company!
After you have decided on the insurance company and have moved forward with investing in your policy, it is important to keep all your documents in a safe place. In case of an emergency, you want to be able to easily access your insurance papers that outline your coverage and policy details. We have seen cleaning businesses discard their insurance papers and then later regret it when a situation arises!
Another piece of information that is handy to keep on file is the contact information for your insurance company. We recommend storing this information in your phone. You will be able to save time by not having to look for it in case you need to submit a claim.
Choosing to get bonded and invest in business insurance is an essential step to building a solid foundation for your cleaning business. Picking the right insurance company and policy can be easy by following our recommendations listed above. You will not regret making this important investment in your business!
Frequently Asked Questions
Can I invest in business insurance without getting bonded?
When you are starting a new cleaning business, the expenses can seem to add up quickly! We understand how stressful business finances can be and the desire to keep your expenses as low as possible, especially when you are first starting out.
If being bonded is not required in your area, you do not have to get bonded right when you open your business. However, we do recommend investing in getting bonded as your business grows and your finances allow room for the investment. Being bonded becomes more essential as you begin hiring on additional help.
Even as your new business is starting, we do recommend investing in business insurance at the minimum. When you are cleaning homes for your clients, you do not want to take the risk of being personally responsible for any damages that may be caused!
What are the cons of not getting bonded or purchasing business insurance?
If you choose to not get bonded or purchase business insurance, you are putting both yourself and your business at a major risk. When you clean a client's home, they trust you with the safety of that property and any items inside.
If you do not have any sort of insurance, you can be personally responsible for any damages done. For example: If you or one of your employees breaks something inside your client's home, you would then be responsible for replacing it.
If one of your employees is caught stealing from a client's home, your business would be responsible for replacing that item as well. However, if your business was bonded, your insurance company would then cover the cost to replace the stolen item.
The main con of not getting bonded or getting insurance is the risk you put your business in, both financially and legally. When it comes to protecting your business, it is always better to stay on the safe side and invest in insurance.
Can I change insurance policies later down the road for my cleaning business?
Yes, you can absolutely make changes to your insurance policy in the future. Unlike some other aspects of your business, insurance coverage is something that will change over time. As your business grows, you will need more coverage.
If you decide that you are not satisfied with the insurance company you picked, you can easily change companies as well after your policy has been completed. Once you have paid off your policy, then you will have met your obligations (with most companies) and then decide to move on. We recommend first checking with your insurance company to see what their policies include.
To learn more on how to start your own cleaning business, check out my startup documents here.
Please note that the contents of this blog are for informational and entertainment purposes only and should not be construed as legal advice. Any action taken based on the information provided in this blog is solely at your own risk. Additionally, all images used in this blog are generated under the CC0 license of Creative Commons, which means they are free to use for any purpose without attribution.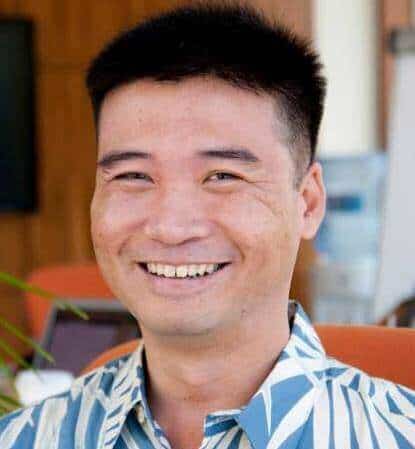 About the author. Entrepreneur and Cleaning Business Fan.
Hi! I am Shawn and I am a happy individual who happens to be an entrepreneur. I have owned several types of businesses in my life from a coffee shop to an import and export business to an online review business plus a few more and now I create online cleaning business resources for those interested in starting new ventures. It's demanding work but I love it. I do it for those passionate about their business and their goals. That's why when I meet a cleaning business owner, I see myself. I know how hard the struggle is to retain clients, find good employees and keep the business growing all while trying to stay competitive.
That's why I created Cleaning Business Boss: I want to help cleaning business owners like you build a thriving business that brings you endless joy and supports your ideal lifestyle.