What keeps most people from starting their cleaning business are the doubts about whether or not they can operate a business and succeed at it. You'll never know if you don't try. Many cleaning business owners have conquered this fear and have gone on to be owners of successful cleaning businesses with little or no experience or funds.
In order to inspire and challenge you to either start your own cleaning business or scale up your business if you already have a cleaning service, here is a compilation of five successful cleaning business stories and how they became a success.
From a car's trunk to five offices
Mitchell Spitzer says, "Just take action and do it. Don't be afraid." She started her cleaning business from scratch out of the trunk of her car and now has a multimillion-dollar company on her hands. Today, she has five MaidPro offices and has more than 100 employees.
It all started when she lost her job working with an insurance company in Illinois. She then decided to move back home to Naples and start college. Her cleaning business idea was birthed as a means to make extra cash while in college. But she couldn't even clean her own room, how was she going to clean for other people? She says she just went for it anyway.
Initially she did the cleaning herself. As her clientele grew, she gradually started to take on a couple of employees. "It wasn't glamorous at first", she says. She dispatched her employees out of a parking lot every morning. She once had an experience where none of her employees showed up to work because they had all gone to the same event the previous evening. She had to ask her family members to fill in for them. She had a support system, which is a good thing when you're starting out a business by yourself.
Talking about dealing with challenges, she says, "You just have to run with the challenges, overcome the obstacles, and do whatever it takes to get the job done."
After a couple of years, she had a much larger crew and started to work out of her garage. This was when she learned that MaidPro was looking for franchise owners. Once again, she just went for it. Making this decision came with the benefits of a company car and an office. Now she has more offices and workers. Nearly twenty years after starting her cleaning business, she still looks out for opportunities to expand. She is not afraid to go for it because she is not afraid of taking risks and making mistakes.
Check out this article to learn how you can create a slogan and motto for your cleaning business.
The story of Two Maids and a Mop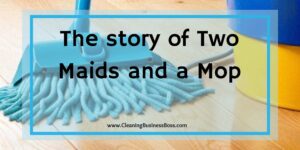 Another successful cleaning business story is that of Ron Holts, founder of Two Maids and A Mop. He started out with $150,000 and has now raked in $11 million in a year.
The odds were practically stacked against him. He says he had no money, no business intellect, and no support mechanism at all. He decided to save up money to start his business. 7 years later, he had reached his goal to save about $150,000. He then bought a small cleaning business in Florida.
Not only had he decided to start a cleaning business, he specifically wanted to cater to residential buildings. This gave him a specific focus. He started out doing the cleaning by himself, hiring employees and was also responsible for coming up with marketing strategies for his business and buying supplies.  He says that what took him through the dark days and the tough moments of his business was the vision he had of what he wanted to accomplish. At the end of the first year, he had made $110,000.
In the second year of his business, he had almost depleted his initial capital and had to look for a way to stay in business. He came up with a model known as "pay for performance". This basically means that his employees got rewarded based on how the client rated their performance on a scale of 1-10. This improved the productivity of his employees. He also turned to digital marketing instead of the traditional methods of advertising. He was able to cut down on marketing costs this way.
With these changes, his business grew to be in 12 locations and he made $4million in sales. To allow him to expand his cleaning business further without incurring a lot of expenses, he decided to go into franchising.
Today, he has over 500 employees and has offices in 55 different locations. And, of course, he doesn't have to do the cleaning by himself anymore.
He advises aspiring business owners to set their goals before starting out and to work very hard at those goals.
A blessing in disguise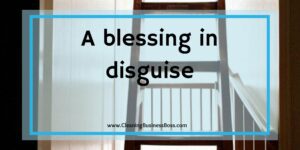 Adams Johnson, owner of TurnClean Services LLC tells of how he lost his job and had to find a means to support his family. His cleaning business made a profit of $100,000 in its third year.
After staying at home for six months and being broke, his friend who owned a property management business suggested that he start a cleaning business. The idea was a laughable one because he didn't know the first thing about cleaning or running a cleaning business. He says that after being turned down at jobs he had applied to, again and again, having a cleaning business no longer seemed like such a bad idea.
He started by cleaning two vacant homes his friend managed. At the end of that day, he had earned $500. It was at this point that he made up his mind to start his own cleaning business.
He says he is still learning a lot from his business. In his words, with a ton of hard work, he has survived the first 3 treacherous years of being an entrepreneur. With each year, his revenue has steadily increased.
He says that, although he started his cleaning business because he didn't have a choice, looking back now, there's nothing else he would rather do. For Adams Johnson, losing his job became a blessing that opened him up to being his own boss and being financially independent.
A community-oriented cleaning business
Stephanie Nesseth of Absolutely Clean says that when her son was diagnosed with cancer, she had to find a job that allowed her to manage her schedule. What inspired her to start a cleaning business was a $65 cleaning certificate for a franchise maid cleaning service that she got from a local charity. She was told that this gift certificate might clean a kitchen. This was 15 years before. In her own words, she knew she was a rock star cleaner with a touch of OCD. She decided to put this skill to work.
Today, Absolutely Clean has 20 employees and is a successful business. While her business is solely for-profit, she also has a non-profit organization through which she donates cleaning services within her local community.
Stephanie goes about marketing her business through her community. She does this by highlighting how people can help her give back to the community. She says the secret to her cleaning business is a great team, and her mission to "foster service to others." She has also embraced social media marketing.
She talks about a time when she "strayed" from her initial business plan. This change almost put her out of business. Thankfully, she was able to return to her original mission and things became significantly better.
Sticking to your values and what works best for you is key to having a successful cleaning business.
How to set your cleaning business apart from the competition? Check out this article here for more information.
Age is not a barrier
Kylie Walker was perhaps the youngest cleaning business owner when he started Real World Services Company in Ohio. He was 15 years old when he started his cleaning business. By the time he was 21, he had made his first million dollars in profit.
He started by mowing lawns for extra money when he was in the 6th grade. As he gained more customers, he thought of turning it into a business. When his sister joined the business, they decided to launch a cleaning service division. After a while, he closed down the lawn care division and has since been a full residential and commercial cleaning business.
He has family members and friends as employees. He says that — although they don't always agree on everything — they all get along eventually because they have a common goal of making the business succeed.
He credits the success of his business to a great support system, hard work, and investment in business development training and resources.
All successful cleaning business owners have some things in common. They were able to overcome their fear of starting, they came up with a plan, they sought for advice or invested in business development resources, had a specific vision, put in the required hard work and paid attention to their marketing strategies. Borrowing a leaf or two from these cleaning businesses while staying true to your values or business principles will put you well on your way to having a successful cleaning business.
Frequently Asked Questions
Why do some cleaning businesses fail?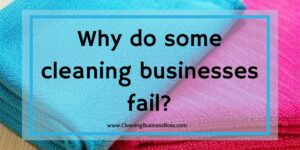 Just like any other type of business, some cleaning businesses fail too. Usually, this is due to some factors. The most common factor is not having a business plan before the start of a cleaning business. A plan gives direction to your efforts and helps you focus on what is important. The second most common factor is a lack of guidance. As a new cleaning business owner, you should seek to learn from experienced people or invest in trainings. This will help you avoid many mistakes that may put you out of business in the long run.
How do I get clients for my cleaning business?
Marketing cannot be overemphasized for getting the word out about your business. These days, there are many affordable options to choose from. You can decide to go the word-of-mouth route where your clients refer other people to your business — usually after being impressed with your services. Your friends and family members can also help spread the word about your cleaning services. There is also the option of traditional advertising using flyers, banners, cards, etc. The most affordable and popular option now is online marketing using social media, Google ads, email marketing, etc. You can get clients for your cleaning business by using one or more of these marketing methods.
To learn more on how to start your own cleaning business, check out my startup documents here.
Please note that the contents of this blog are for informational and entertainment purposes only and should not be construed as legal advice. Any action taken based on the information provided in this blog is solely at your own risk. Additionally, all images used in this blog are generated under the CC0 license of Creative Commons, which means they are free to use for any purpose without attribution.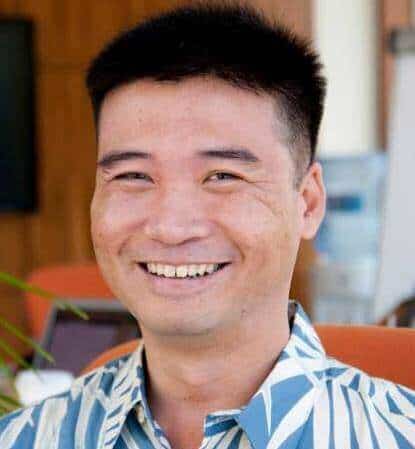 About the author. Entrepreneur and Cleaning Business Fan.
Hi! I am Shawn and I am a happy individual who happens to be an entrepreneur. I have owned several types of businesses in my life from a coffee shop to an import and export business to an online review business plus a few more and now I create online cleaning business resources for those interested in starting new ventures. It's demanding work but I love it. I do it for those passionate about their business and their goals. That's why when I meet a cleaning business owner, I see myself. I know how hard the struggle is to retain clients, find good employees and keep the business growing all while trying to stay competitive.
That's why I created Cleaning Business Boss: I want to help cleaning business owners like you build a thriving business that brings you endless joy and supports your ideal lifestyle.