You can easily generate more leads for your cleaning business by using a combination of online services, some older proven methods, and having excellent customer service. You can achieve all of this with minimal cost and using little effort.
Here are the most effective ways to generate new leads for your cleaning business:

Use social media sites including Facebook, Instagram, and Twitter

Have an effective website. A website can bring in more leads and make your business easily accessible to your customers.
Capitalize on referrals. As with any business, referrals and word of mouth play an important part, remember that the more quality of work you provide the easier it will be.

 

If you've been giving the best service a customer has seen, they are more likely to like your page's and share it with others.
Use traditional methods, like posting on your local bulletin board which can also play a big part in generating new leads. With these methods and the outstanding service you provide, you will be surprised to see how easy it is to bring in new clients for your cleaning business.
Incentives will be involved in almost every method of generating new leads. So expect to see this word often. They have such a huge part in bringing in new customers. Make sure to use these as much as possible. I will explain how to incorporate, and give some examples of how to use an incentive to boost your customer base throughout this article.
Use Facebook as your main tool for bringing in new customers.
Boosting a post on Facebook for your business is very cost-effective. It puts you in control of the audience that can see your post. It does this by showing up on the news feeds of the people who fit the requirements of your boosted post, including the age and gender of the user. It also shows up on the people who have already liked your page and all the friends of those users. This is a good tool as it also makes it easy for people to find your page and can generate more likes. This leads to more reviews and that alone is another way you can get new leads at the same time. Also, you can easily control the exact area and the surrounding areas you would like to advertise to.
Once you've boosted a post, it shows you how much you've spent, how many people your boosted post has reached, and how many post engagements you have gotten from that posting. It even shows you the age and gender who did engage in your posting to make it that much easier to decide your next audience for your next post.
Start with a simple introduction to your business. Explain what you do and the services you offer, along with an incentive. An incentive is something that motivates or encourages someone to do something. An example of an incentive is offering something like a free service in return for a referral for something as simple as sharing and liking your business's Facebook page.  Include that if the customer likes your page, you can offer one free upholstery cleaning with your first month of service. For each new like you get on your page that adds all the users from that person's friends list onto your next boosted post.
Keep up with your social media platforms. Your page will even score you on how quickly you answer a message. If you go too long without replying it may look bad on your business. Try to post at least once a week. The more active you are on these sites the more people they will reach. You can post a special going on that week, a recent project you are working on, or staff member of the month; the possibilities are endless.
You can include your business's Instagram and Twitter right to your Facebook page so people can easily access all of your social media platforms in one place.
Learn how to create and design flyers for your cleaning business by checking out this article.
A quality website will be something that sets you apart from your competition.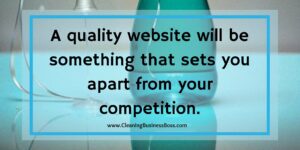 It is important to have a good website for your business. Trying to navigate on a website that is not user friendly or appealing to the eye can be very frustrating for a customer. This is one of the biggest reasons people could shy away from contacting your business for services, so make sure it's easy to navigate.
Include your contact information as one of the first things people will see, this is very important because it is one of the main things people will visit your site for. Make the services you provide very clear and include some of the cost of services you offer, as this is another piece of information the customer may be looking for.
Add some specials to your page to encourage customers to pick you over the competitors. If you are in an area with many restaurants, include that you have a specific restaurant service. If you're looking into more residential cleaning, include some good reviews from other clients about the quality work you provide. It can be a simple video, or maybe a good Facebook review. Don't be afraid to ask for those customer testimonies as they can help you in the future when it comes to generating new leads.
You can also include an online portal on your website. This makes it easy for people to reach out to you, request quotes and put the customer information into one easy place for you to easily access. If the thought of trying to design a website for your business seems overwhelming, invest in a good web designer as there are many things they can do to achieve the best website for your business.
Use traditional methods to generate new leads.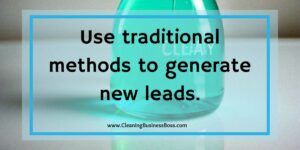 The internet makes it very convenient to generate new leads, so there are still so many ways to get your business name out there. This includes, as we mentioned earlier, posting ads on your local bulletin boards. As you do so, make the service you offer clear, include an incentive like a free quote, and list your contact information.
Send out mailers. Like your post on the bulletin board, include your business name, some services you provide, and a clear listing of your contact information. You can also include a bonus if they mention the mailer. Send those out to the neighborhood and surrounding areas your business resides in.
You can advertise in your local paper, as that generates several weeks/months of advertisement and is very cost-effective.
Cold calling! Get a list of all of your local businesses and ask them if they have thought of hiring a professional cleaning business before, again add the small incentive that will encourage the business to want to use you for their service. Also knowing these businesses can be very impressive to the business owner so do your research.
Lastly, promotional emails are still a great way to keep business up. Always keep a customer's email so when you send out your email specials you can send to all of your current customers. Make sure to add that incentive!! Make your add appealing to the eye. Keep it simple, make sure to have your contact information, and ask your customers to forward friends and families.
Learn some ways how to market your cleaning business by visiting our article here.
Let your customers have a hand in generating new leads.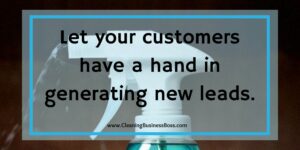 Lastly, the most important thing your business can do to help generate leads is referrals. If you're doing a great job, people may refer you to a business pal or even a neighbor. If that person becomes a new client, and you continue to do an amazing job they may mention your business to their dental assistant at their next dental check-up. If that dental assistant tells their employer about this business, maybe they have been thinking about professional services and they could be added as a new client.
See how this works? Just your amazing work ethics have gotten you this far, but imagine how you can make this method even more effective. Try incorporating an actual referral program to your business. The way you can successfully use this to your advantage is to offer an incentive to a customer if he or she generates a new lead for you.
So, let's say not everyone is as quick to refer your business to another, such as that woman who referred you to her neighbor. Offering someone a free week of service or a free deep bathroom cleaning will encourage that person to tell a friend. Word of mouth marketing is an amazingly rewarding way to generate new leads, but adding a referral program can make this method even more successful.
Use these many tools to boost your cleaning business and you will have no shortage of new leads. And always remember to keep up that quality service because that is truly going to be your key to being the most successful cleaning business in your area!
To learn more on how to start your own cleaning business, check out my startup documents here.
Please note that the contents of this blog are for informational and entertainment purposes only and should not be construed as legal advice. Any action taken based on the information provided in this blog is solely at your own risk. Additionally, all images used in this blog are generated under the CC0 license of Creative Commons, which means they are free to use for any purpose without attribution.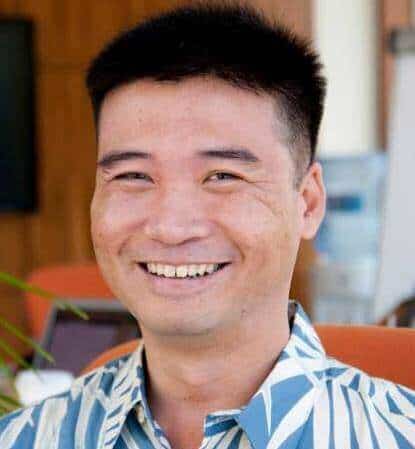 About the author. Entrepreneur and Cleaning Business Fan.
Hi! I am Shawn and I am a happy individual who happens to be an entrepreneur. I have owned several types of businesses in my life from a coffee shop to an import and export business to an online review business plus a few more and now I create online cleaning business resources for those interested in starting new ventures. It's demanding work but I love it. I do it for those passionate about their business and their goals. That's why when I meet a cleaning business owner, I see myself. I know how hard the struggle is to retain clients, find good employees and keep the business growing all while trying to stay competitive.
That's why I created Cleaning Business Boss: I want to help cleaning business owners like you build a thriving business that brings you endless joy and supports your ideal lifestyle.