Hey, Georgia residents! If you're passionate about cleaning for yourself and others and want to make a difference in your community while making a living for yourself, look no further than starting your own cleaning business.
Start your Georgia cleaning business by following these 5 steps.
Choose a cleaning business name and register it with the Georgia Secretary of State.
Open a cleaning business checking account at a local Georgia bank.
Find a wholesale supplier in Georgia to distribute cleaning business supplies
Find local cleaning technicians in Georgia for your cleaning business.
Advertise your cleaning business at the Georgia Chamber of Commerce and via other methods.
Grab your peach-scented cleaner and let's get to spruce up before your grand opening day in Georgia.
The Benefits of Starting a Cleaning Business in Georgia 
What's so special about Georgia that it's a good state to start a cleaning business? We find it's just "peachy" to start your cleaning business in the Peach State for these 3 main reasons.  
The Popularity
Jobs in the cleaning industry have become the most successfully growing occupations in the country according to the U.S. Bureau of Labor Statistics. Everyone needs a clean environment. Offices need their computer and phone equipment dusted and organized. Schools need classroom desks, tables, and chairs cleaned and sanitized to keep students and faculty healthy. Even a clean home is needed to function without anxiety.
The Viability
The cleaning industry's commercial sector is seen as viable and profitable as more small businesses and corporations open in the country. As more corporations and small businesses (other than cleaning businesses) open their doors, this means there is an increasing need for clients who need their businesses cleaned. Even as the population increases due to families moving to the state of Georgia, that means there are more residential clients that could need regular cleaning services if they are too busy to do it themselves.
The Growth
According to Franchise Help, the industry itself is expected to grow by 10% by 2026. The need for cleaning services is increasing throughout the country, including Georgia. Now is the best time more than ever to start a cleaning business in this state.
Check out this article to give you idea of the six stages of cleaning.
Choose a Cleaning Business Name and Register it with the Georgia Secretary of State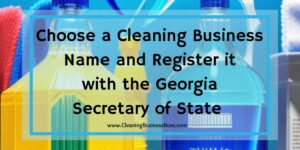 How to Choose Your Georgia Cleaning Business Name?
Make it personal and have it stand out from the competition. Have your business name tell a story about your cleaning business just by clients reading its name. Follow these tips to choose your business name. 
Think of your favorite cleaning term and what you like to clean in general. 

 

If you are a Personal Organizer, names could be:

 

Sandy's Spruced Cabinets

 

Clean Home, Cl

ean Heart

 

If you offer Maid Services, names could be:

 

Mess Be Gone Maids of Georgia

 

Momma Boss Maid Service

 

Be sure that your name is not already taken by doing a DBA search online and/or contact the Georgia Secretary of State for verification purposes.

 

Worst-case

 scenario, start out with your name and industry in the business name such as "Smith's Janitorial Se

rvices" until you think of a more engaging name. 

 
Selecting Your Business Structure
Your business structure will depend on how you want to run your business. First, you must choose whether you want to run your business by yourself (sole proprietor), with a partner (partnership), or with a management team and employees (LLC or corporation). 
Sole Proprietorship 
As a sole proprietor, you will be "solely" responsible for all the expenses in your business for lack of a better word. While you will have a separate bank account for your business, you will still be providing your own funds to run the business. If the business were to experience debt or be sued, you will have to pay out of your own pocket unless you have insurance to cover you. This designation is best if you only have a few clients throughout the neighborhood that you service on a regular basis independently.
Partnership 
If you have a friend, sibling, or colleague that would like to go into business with you, consider forming a partnership. Partnerships are a bit like sole proprietorships in the way that any profits from the business are taxed via a personal tax return. Whoever is the general partner (the person who does not have limited liability) must pay self-employment taxes to the Georgia government and federal government.
Limited Liability Company (LLC)
A Limited Liability Company (LLC) is different from a sole proprietorship or a partnership in how the cleaning business can be a separate entity from you when establishing this business structure. If debts occur or if your company is sued, you will not have to come out of pocket personally to pay the expenses. Your cleaning business will have its own funds and/or insurance to put towards these unforeseen expenses.
Corporation
Corporations also take away personal responsibility for handling debts like LLCs. However, they are taxed differently. S corporations involve shareholders getting taxed on any profits they earned during that tax year. C corporations are taxed twice. The shareholders get taxed on their profits and the corporation itself as an entity must pay its own taxes.  
Where Do I Go to Register My Business Structure with the State of Georgia? 
Visit the Georgia Tax Center to get your business registered under the selected business structure. 
How to Register for an Employer Identification Number (EIN)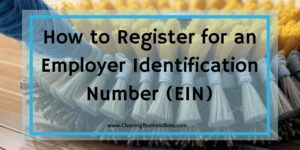 You have to register for an Employer Identification Number (EIN) in order to:  
Open a business checking account.

Get a business credit card.

 

Hire employees

 

File a yearly tax return for your cleaning business. 

 
Register for an EIN by following these steps. 
Click on this link to see the process for applying before going to the online application.

Be sure it is within the 7 am to 10 pm Eastern time bracket before clicking "Apply Online" or you will be taken to an error page if you ar

e outside of these operating hours. 

 

Once you have arrived at the application page, fill in the required fields. 

 

Personal information.

 

DBA and when your business started. 

 

Contact information. 

 

After you fill out all the required fields and submit your ap

plication, you will receive your EIN immediately.
How to Figure Out Your NAICS Code
NAICS stands for North American Industry Classification System. The Georgia Department of Revenue requires that you register your business under one of the NAICS codes. Go to this link below to get started and follow the steps to figure out which code will fit your business best. 
Click on the above link to access NAICS online. 

 

Look at the very left panel of the page labeled "NAICS search".

 

Type in "cleaning" into the search bar that has the "2017 NAICS Search" button.

 

Click the "2017 NAICS Search" button to see an entire list of cleaning industry classifications. 

 
This set of directions will give you ideas on what cleaning service you wish to operate if you are not sure what you want to do yet. If you already know your specific industry, you could type in any of the following terms into the same search bar to yield the proper NAICS code for you to use at registration.  
Carpet cleaning

 

Janitorial

 

Maid services
For more information on how to register your cleaning business in Georgia, visit this link.
Planning to start a commercial cleaning business? Check out this article to learn how.
Open a Cleaning Business Checking Account at a Local Georgia Bank
You will need a checking account at a local Georgia bank to keep your personal finances separate from your cleaning business finances. Conduct a search on Google or your favorite search engine to find all the banks throughout the state of Georgia. Compare and contrast the fees, minimum opening amounts, minimum balances you must maintain, and interest rates (if applicable) to get the best deal for your banking needs.
For example, Northeast Georgia Bank has 4 different types of business banking accounts that you could open based on the sales that your cleaning business accrues. 
Three of four of the accounts only take a $100 minimum to open up. The Non-Profit now checking requires a $1,000 minimum deposit to open the account, but it accrues interest. Maintenance fees, debit fees over a certain threshold of debit transactions, and check fees may be included in the account that you choose to open, so be sure to read everything carefully.  
Find a Wholesale Supplier in Georgia to Distribute Cleaning Business Supplies
Simplify stocking up on your cleaning supplies by partnering with a wholesale supplier to have them delivered to you on a regular basis. This will save you from going to the store to pick up cleaning supplies during your own time. It will automate your restocking purchases that will fluctuate with store sales since wholesalers usually set a price and do not change it for a while.
Some wholesalers even offer free shipping or delivery if you spend over a certain amount on their website. Conduct a search on Google or your favorite search engine to find the Georgia cleaning supplies wholesaler that fits your company's needs the best.  
Try out one of these cleaning supply wholesalers to get started. 
Farag Janitorial in Buford, Georgia.

 

Cherokee Supply in Stone Mountain, Georgia.

 

Best Janitorial Supplies LLC in Thomasville, Georgia.

 

Houston Janitorial Supply in Bonaire, Georgia.

Cleansmart

Janitorial Supplies in LaGrange, Georgia.

 
Find Local Cleaning Technicians in Georgia for Your Cleaning Business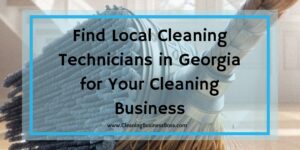 Find Cleaning Technicians who are as crazy about sprucing up and making their environment look pretty as you are. Here are some tips for finding the best Cleaning Technicians for your Georgia cleaning business. 
Post on various popular job 

boards such as Indeed, 

SnagAJob

, Monster, and Career Builder to reach a wider span of potential employees. 

 

Post flyers about your open jobs on local bulletin boards in different businesses throughout your local Georgia city. 

 

Try to find people who have 1

-3 years of on-the-job cleaning experience whether as a janitor, maid, dishwasher, etc.

 

If the person does not have cleaning experience on the job, look on their application to see how they clean at home or any cleaning hacks they have made or used for the

mselves. 

 

Find promising Cleaning Technicians with a variety of backgrounds to diversify your cleaning team. 

 

They can learn from one another. 

 

One's strengths can help to work on one's weaknesses. 

 
Advertise Your Cleaning Business at the Georgia Chamber of Commerce and Via Other Means
Chamber of Commerce
While the normal advertising online and in print media will help to get your business noticed, sign up for a membership with the Georgia Chamber of Commerce to get the best and most credible advertising for your cleaning business. Go to this link to start the sign-up process.  
As a member, you will be able to network with other members for them to get to know about your small business. Since you will be a newcomer, your kindred small business owners would gladly want to help your new cleaning business flourish. In return, you can also support their small business, so that they can continue to flourish in the Georgia economy.  
Social Media
Open social media accounts like 

Facebook, 

Instagram, 

Twitter

and 

Pinterest

 

Post updates about promotions and/or conversation starters to engage followers.

 

Keep all posts the same throughout all platforms for transparency purposes. 

 

Interact with all who reply to your posts for continued follower engagement. 

 
Website
Be sure to 

post your promotions on your website as well. 

 

Have your promotions featured on the homepage of your 

website.

 

 

Also, have a Promotions tab on your website where you can give more information on how clients can capitalize on these deals.

 

Host a cleaning top

ics blog on your website for continued client engagement. 

 
Summary
The world is your peach when you go about opening a cleaning business in Georgia. Take the necessary steps with a persistent demeanor and you will be well on your way to becoming the entrepreneur of which you always dreamed.
Frequently Asked Questions
How can I advertise my Georgia cleaning business in local print media? 
Post your promotions in the classifieds section of one or more of these many Georgia newspapers. 
Savannah Morning News

Gwinn

ett Daily Post

Atlanta Journal-Constitution

South Bend Tribune

Augusta Chronicle

And more!
How do I network at the Georgia Chamber of Commerce? 
Network at the Georgia Chamber of Commerce by:
Attending in-person or virtual events.

 

Speak up in conversations with other members. 

 

Exchange business cards, if it is your first time meeting a fellow member (if you are at an in-person event). 

 

Be clear when professing the mission, vision, and servi

ces of your cleaning company, so other members get a general idea of how you contribute to the local Georgia cleaning industry. 
To learn more on how to start your own cleaning business, check out my startup documents here.
Please note that the contents of this blog are for informational and entertainment purposes only and should not be construed as legal advice. Any action taken based on the information provided in this blog is solely at your own risk. Additionally, all images used in this blog are generated under the CC0 license of Creative Commons, which means they are free to use for any purpose without attribution.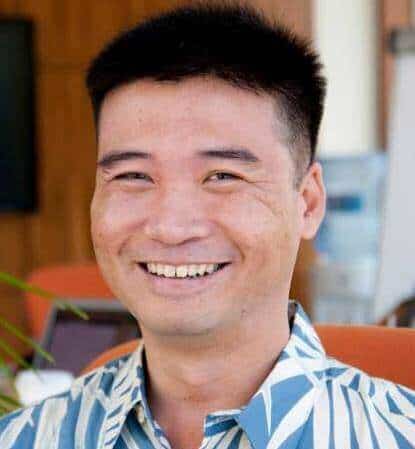 About the author. Entrepreneur and Cleaning Business Fan.
Hi! I am Shawn and I am a happy individual who happens to be an entrepreneur. I have owned several types of businesses in my life from a coffee shop to an import and export business to an online review business plus a few more and now I create online cleaning business resources for those interested in starting new ventures. It's demanding work but I love it. I do it for those passionate about their business and their goals. That's why when I meet a cleaning business owner, I see myself. I know how hard the struggle is to retain clients, find good employees and keep the business growing all while trying to stay competitive.
That's why I created Cleaning Business Boss: I want to help cleaning business owners like you build a thriving business that brings you endless joy and supports your ideal lifestyle.