Suppose you are thinking of starting a carpet cleaning business. In that case, you probably are wondering if it is an excellent business to start. And if you are looking for a short response, the answer is yes. 
Yes, a carpet cleaning business is perfect and profitable to start with decent demand, depending on your location and margins. Carpet cleaning also has a considerably lower startup cost compared to other types of businesses.
According to recent statistics, in 2019, carpet cleaning services in the U.S. had a market size of 5.34 billion U.S. dollars. And that number is only expected to grow in the following years.
More so, the average carpet cleaning company makes between $50,000 to $75,000 a year in net income. And the initial investment needed is meager compared to other entrepreneurial projects such as restaurants, cafés, tech startups, or retail stores. On average, carpet cleaning businesses need between $56,000 – $80,000 to start. 
Why you should open a carpet cleaning business?
If the numbers above did not entirely persuade you to open your own carpet cleaning business. Below we will go over a few other reasons why opening one is a good idea:
Carpet cleaning businesses have one of the highest return on investment (ROI) rates in the country. In other words, your total returns are more likely to be greater than the associated expenses or costs.
Profit margins are incredibly high. The cost of cleaning supplies usually runs less than 5% of the job itself — resulting in a 95% profit margin. More so, many successful owners report earning $75 to $150 (or more) per hour per staff member.
The industry has a low level of market share concentration. Thus, even though the competition is high, you can rest assured that not one player monopolizes the industry. In turn, the playing field is fairly distributed. Hence and with efficient management and an effective marketing plan, your business can truly thrive.
Carpet cleaning means repeat business. Another great thing about carpet cleaning is that it is not a one-time job. Most customers will need periodically cleaning — more so if you focus on commercial services.
Carpet cleaning is very versatile. Most carpet cleaners can easily branch out and offer related services such as restoration, mold removal, furniture cleaning, and more.
It does not require a large staff. As a rule of thumb, cleaning carpets does not require a massive team of people. Most jobs are one-person jobs. So, to start, you will not need to hire dozens of people, and you probably won't even need to hire them full-time. As a result, payroll expenditure is low.

 

Carpet cleaning businesses can exponentially make more profits in just a few years. In other words, increasing your business' income after the first year is easy to do if you put your resources to good use. Most carpet cleaning businesses reported making roughly $15,000 more on their second year of business when compared to their first year and $40,000 more on their third year.
Keep in mind that these numbers and statistics might vary based on your location, business size, initial investment, client base, and more. Therefore, you must draft a cohesive and thorough business plan to help you reach your goals and ensure overall success.

 
Check out this article to know more about commercial cleaning business in Florida.
Why Carpet Cleaning Businesses Fail — And How to Avoid it!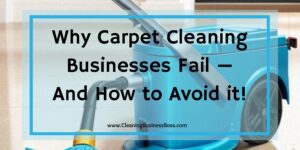 As mentioned before, carpet cleaning businesses can be very profitable when managed effectively. Nonetheless, according to recent statistics, we cannot mention that roughly 90% of all startups fail. And failure is most common for businesses during years two through five, with 70% falling into this classification.
Therefore, if you want your carpet cleaning business to succeed, you need to understand what can go wrong to mitigate risks and plan accordingly. Below are the six most popular reasons why carpet cleaning businesses fail:
No Market Demand
According to CB Insights, the number one reason why startups fail is due to misreading market demand. And although you might think that carpet cleaning companies do not fall into this category due to their crescent popularity, you need to take a closer look.
Carpet cleaning may be a profitable endeavor, but you need to make sure that there is a reasonable demand for your services within your area. Plus, it would help if you targeted the right audience — considering psychographics and demographics. And, most importantly, that the services you offer are aligned with customer demand. 
Poor Financial Management
Poor financial management is another critical reason why carpet cleaning businesses fail. It is common for fits-time entrepreneurs to be on a tight budget, but this does not mean that your company is deemed to fail. Carpet cleaning businesses usually have a good profit margin. But, if your seed capital isis not managed appropriately, you can quickly run out of money.
Thus, you must allocate your money smart and judiciously. Plus, it would help if you made sure that the administrative side of your business is being supervised by someone who understands the industry and knows how to work the numbers. 
Get Outcompeted
Even though recent studies reveal that the industry has no significant players (meaning that there is not one company with a market share greater than 5%), the competition is fierce. There are over 60,000 janitorial establishments that offer carpet cleaning in the United States, with a higher concentration in highly populated states such as California, Arizona, and New Jersey.
Therefore, if you want your company to be profitable, you must stay on top of industry trends. It would help if you revised your business model continually. And ultimate, you should put much effort into cultivating your client base. 
More so, it does not hurt to foster good employee-employer relationships, as the cleaning industry has very high rotation.
Inadequate or Weak Marketing Tactics 
The inability to effectively market their services is another common reason why carpet cleaning businesses fail. And although many factors can influence the why inadequate or weak marketing tactics are a common denominator. So, you need to invest time, money, and energy into crafting a creative marketing plan. Your plan needs to include tactics and efforts that can resonate with your target audience and help you build strong relationships with your clientele.
Furthermore, although you should focus on digital marketing efforts as these are usually more cost-effective, do not neglect other more traditional practices. Grass-root marketing is still very effective when it comes to the cleaning and janitorial industry.
Accelerated Growth 
It might seem like a no-brainer, but more and more are the businesses that fail for growing too fast. If the business is thriving, it means you are doing something right! Hence, do not let greed the best of you.
Every move you make, especially towards expansion, needs to be carefully calculated. Remember that growing, whether in size, reach, or service offering, will affect every other aspect of your business, from staffing and expenses to taxes.
Burnout
A carpet cleaning business can take a massive toll on your physical and mental health. It is a very demanding business that requires attention to detail, careful planning, and supervising. And, if you are a hands-on type of entrepreneur who is an active member of the cleaning crew, it can also be very hard from a physical standpoint.
Consequently, the ability to cut your losses when needed and knowing how to redirect your efforts is crucial if you want to avoid burnout. Additionally, having a solid, committed, and driven team that you can share tasks and responsibilities with is imperative. 
Check out this article to know is classed as commercial cleaning.
Benefits of Carpet Cleaning Businesses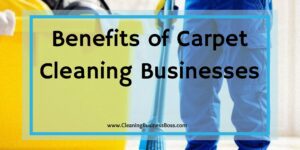 Now that you know what can go wrong, let's move on to the numerous benefits of starting a carpet cleaning business. Below are some of the most appealing advantages:
You are your Boss
Undoubtedly one of the most appealing aspects of owning a carpet cleaning business is that you can be your boss. And when you are the boss, you get to make most (if not all) business decisions, including the number of hours you work, your schedule, whom you decide to hire to be part of your team, and which jobs you are willing to take (or not.)
Considerably Lower Startup Costs
Another great thing about starting a carpet cleaning business is that you have considerably lower startup costs compared to other industries. 
Of course, as we mentioned before, the budget needed to start a carpet cleaning business will depend on many factors, including size, location, service offering, and more. But, in general, most companies within the industry require an initial investment of $56,000 – $80,000. 
This number usually covers legalities, supplies, and equipment. Nonetheless, it would be best to consider other associated costs that can take a substantial piece of your income, such as marketing, staffing, taxes, and more.
No Formal Education is Required

 
If you wish to open a carpet cleaning business, there is technically no formal education required. The janitorial industry is more about commitment, planning, and attention to detail than having a degree or various certificates.
However, it does help to have specific basic knowledge in finance, marketing, and customer service. But, if that is not your case, you can always surround yourself with experts who can guide you through the process. 
Massive Growth Potential
Massive growth potential is another advantage that carpet cleaning businesses profit from! Given the crescent demand for professional cleaning services, you can continually expand your service offering (e.g., damage restoration services, other cleaning services). Or you could cater to a broader customer base (i.e., going from residential services to offering commercial services.) Plus, cleaning businesses are usually very easily scalable and have very few overhead expenses.
More so, if the business is thriving and you believe you are in the position to build a franchise. Carpet cleaning concessions have proven to be very successful in the United States.
Frequently Asked Question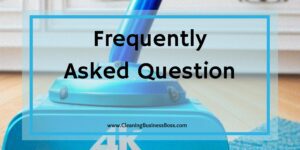 What permits do cleaning companies need?
The permits you'll need to operate your carpet cleaning business highly depend on the state you are located. However, most states in the country will request a regular 'Service Contractor's License' or 'Vendor's License." Find out your local requirements by visiting the U.S. Small Business Administration page or contacting your county clerk/city licensing board.
Should my carpet cleaning business be an LLC?
A carpet cleaning business (whether big or small) can be constituted as a partnership, a sole proprietorship, a limited liability company (LLC), a cooperative, or an S Corporation. The business entity you select will influence several factors of your business, from liability to how much taxes you pay.
Hence, registering your carpet cleaning business as an LLC is highly encouraged because it protects you from being personally liable for any legal conflicts or violations. Plus, you get simplified tax accounting and are usually easier to set up than other entities.
To learn more on how to start your own cleaning business, check out my startup documents here.
Please note that the contents of this blog are for informational and entertainment purposes only and should not be construed as legal advice. Any action taken based on the information provided in this blog is solely at your own risk. Additionally, all images used in this blog are generated under the CC0 license of Creative Commons, which means they are free to use for any purpose without attribution.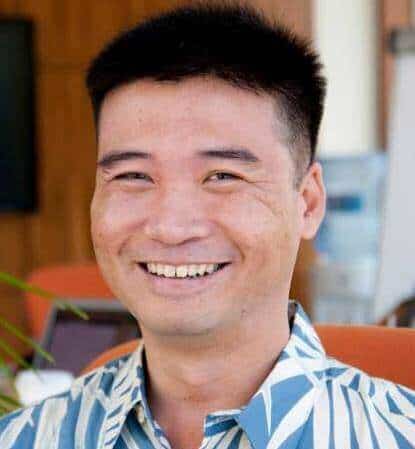 About the author. Entrepreneur and Cleaning Business Fan.
Hi! I am Shawn and I am a happy individual who happens to be an entrepreneur. I have owned several types of businesses in my life from a coffee shop to an import and export business to an online review business plus a few more and now I create online cleaning business resources for those interested in starting new ventures. It's demanding work but I love it. I do it for those passionate about their business and their goals. That's why when I meet a cleaning business owner, I see myself. I know how hard the struggle is to retain clients, find good employees and keep the business growing all while trying to stay competitive.
That's why I created Cleaning Business Boss: I want to help cleaning business owners like you build a thriving business that brings you endless joy and supports your ideal lifestyle.