Since cleaning companies require a variety of licenses and insurances, you're going to want to make it easy for prospective clients to see that you've done your homework, you're perfectly legal, and this is a major step you've taken to earn their trust. This also means becoming a bonded contractor.
Since being licensed is different from being bonded, we wish to guide you through how to get a cleaning business bonded by checking the steps below:
Understand what being bonded means.

Establish an LLC or DBA.
Acquire all necessary licenses and insurances.
Acquire bonds through the appropriate insurance company.
Understand what being bonded means.
Becoming a licensed cleaning business means you can legally operate your company. Being a bonded cleaning business means you've purchased an insurance policy that protects a property owner.
The bond provides a certain amount of liability protection and if the contractor fails to complete a job as required or contracted, the bond can provide compensation to a property owner.
If you aren't licensed and bonded, a court will throw out your client's case against you and your company. On top of that, you will probably have a difficult time acquiring clients, especially if they check to make sure you've got all your legal ducks in a row.
Being bonded means you're prepared to financially compensate them should any problems arise. Being fully licensed and bonded is a great way to start earning trust with people and their property in need of cleaning.
On top of that, your clients aren't the only ones who benefit from your company being bonded. You get liability protection as well. Instead of paying out of your own pocket, should this scenario arise, your bond provides financial compensation to the plaintiff.
Now that you understand, let's get into the steps that lead up to acquiring bonds.
Establish an LLC or DBA.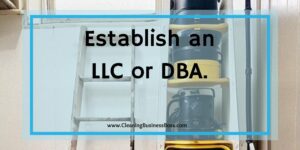 We have a blog post that covers establishing your company in detail, but here's a quick recap:
First, you need to create a business entity. This entails generating a name for your business (Not sure what to call it? Check out this blog post), and then going online and filling out the correct forms. From there, you need to follow up with five more things.
Things your business entity needs to do immediately:
Register your cleaning business NAME with the state you're operating in

Register your cleaning BUSINESS with the state you're operating in

Open a business checking account

Acquire liability insurance
These are all the necessary steps to be officially recognized as a business entity and to operate legally. It is important to keep personal life money separate from business and operate a cleaning business takes a few types of insurances to protect you, your employees and your clients.
Check out this article to know how to start a cleaning business for foreclosed homes.
Acquire all necessary licenses and insurances.
We have a blog post that covers this step as well that you'll probably want to take a look at as soon as you get a chance, but again, we'll give you another quick recap:
To keep everyone protected, including yourself, you need a few types of licenses and insurances.
Key Licenses:
Vendor's license

Sales Tax Certificate
A vendor's license allows you to legally sell goods and services that require collecting sales tax. That includes cleaning services. A sales tax certificate essentially saves you from tax evasion charges while legally allowing you to collect sales taxes from your clients.
Key Insurances:
You'll want to work with an insurance agent who understands the cleaning industry and will help you get the perfect cover for these five things (and yes, they all come separately, but there are bundling options):
General Liability

Property Insurance/Business Owner's Policy (BOP)

Workers' Compensation

Umbrella Liability

Commercial Auto Insurance
Each insurance covers (and doesn't cover) various things, and you'll need all these in place before getting bonded. Again, we can't stress enough how helpful it is to work with an insurance agent to make sure you get not only adequate coverage but also the right coverage.
With all that in place, we can finally get to bonding your cleaning business.
Acquire bonds through the appropriate insurance company.
According to legal experts, there are two types of bonds a cleaning business may need: License and Permit Bond and a Housekeep Surety Bond (a.k.a. Surety Bond).
License and Permit Bond
These are also known as "License Bonds" or "Commercial Bonds." You need this if you are issued a license by your municipal government. Local governments CAN be sued if they license a contractor or cleaning professional who does poor work.
These bonds protect the municipal government from the cost of a lawsuit. You may not be issued a license until you have proof that you're properly bonded.
Surety Bond
A surety bond reimburses clients who pay for a service they never receive. For example, if you have an employee that never shows up for an appointment but reports that s/he has completed a cleaning service and the client finds out after paying the bill, but you don't reimburse them or take any steps to rectify the situation, then the final way (a now former) client gets their money back is via court ruling and the bonding insurance company pays out.
If a cleaning business fails to deliver the work it promised, this bond reimburses the client for the fees they spent. In essence, these bonds help secure and enforce contracts.
Ultimately, there are many things you can do to waylay having to resort to using a surety bond to compensate a shortchanged customer.
Where to Buy Bonds?
We highly recommend you obtain a surety bond from an agency that either has a full-fledged bond department or exclusively offers bonds. Filling out an online form is quick and easy, but it's best to work with an expert who can calculate your immediate needs and be ready to make changes as your company grows.
You can start online with a quote but make sure to follow through with talking to a live person before you sign and pay for anything.
Here is a list of the top 10 companies that specialize in bonding:
Surety Solutions

Surety Bonds Direct

Bryant Surety Bonds

Viking Bond

Worldwide Insurance Specialists

Surety1

All Commercial Surety

Absolute Surety LLC

JW Surety Bonds

Surety Bonds
Want a quick summary of all of them? Check out what Blogger Local has to say about them.
Wondering how to start an office cleaning business in simple steps? Check out this article here.
Frequently Asked Questions
There's a fair chance you might be wondering about the necessity of getting bonded when there are so many ways to avoid having to turn to them to rectify a bad situation. Here are a pair of follow-up questions for your benefit.
Do I really need a surety bond?
Yes and no. Legally, they aren't necessary. Licenses and insurances are, but not bonds. However, if you want the well-paying clients, chances are they won't hire you if you're not fully insured AND bonded.
Bonding only further instills trust in you and your cleaning business. If you or your employees perform a contracted task and, for whatever reason, your client isn't satisfied with the job, your client knows they will get their money back, that they're just not simply out whatever they just paid you.
On top of that, say you wish to reimburse an unsatisfied client but you've just started out and don't have the funds available, the surety bond takes the hit and is able to quickly handle the situation.
Yes, you have to repay the insurance company, but it's better than dealing with a very unhappy former customer who could easily spread the word about how awful your cleaning business is.
How much does it cost to get a cleaning business bonded?
That answer depends on the services you provide. It can cost anywhere from around $50 a month to a couple hundred. They are relatively inexpensive, especially if you have a good credit score.
License and Permit Bonds generally cost 1% of the coverage. For example, you can get $10,000 of coverage just for $100 annually. However, in some cases, this bond may have to be reviewed by an underwriter before determining the cost. The worse your credit, the more it costs.
Surety Bonds generally cost 1-10% of the coverage and follow the same cost parameters as a License Bond. A credit score of 675 and above will get you the best rates.
Factors that affect bond cost:
Personal credit

Business finances

Personal finances

Industry experience
To learn more on how to start your own cleaning business, check out my startup documents here.
Please note that the contents of this blog are for informational and entertainment purposes only and should not be construed as legal advice. Any action taken based on the information provided in this blog is solely at your own risk. Additionally, all images used in this blog are generated under the CC0 license of Creative Commons, which means they are free to use for any purpose without attribution.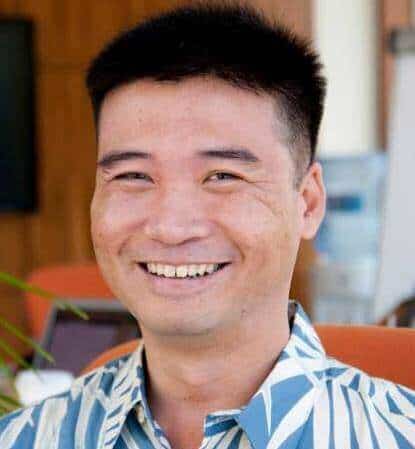 About the author. Entrepreneur and Cleaning Business Fan.
Hi! I am Shawn and I am a happy individual who happens to be an entrepreneur. I have owned several types of businesses in my life from a coffee shop to an import and export business to an online review business plus a few more and now I create online cleaning business resources for those interested in starting new ventures. It's demanding work but I love it. I do it for those passionate about their business and their goals. That's why when I meet a cleaning business owner, I see myself. I know how hard the struggle is to retain clients, find good employees and keep the business growing all while trying to stay competitive.
That's why I created Cleaning Business Boss: I want to help cleaning business owners like you build a thriving business that brings you endless joy and supports your ideal lifestyle.