If you are thinking of opening a cleaning business, you are most likely also looking for name ideas. And while you could name your company virtually anything you want, you might want to give it a little thought. A company's name is an intrinsic part of your brand. 
More so, choosing the right name for your company can have a significant impact on your business's success. A clear, catchy, and easy to remember name can be truly helpful for your branding and marketing efforts. The wrong name, on the other hand, could potentially harm your cleaning business.
A great place to start is humor. Funny names tend to connect easier with audiences and are generally simpler to remember. Below, we will list 42 funny names you can use as inspiration for your cleaning business.
Funny Names For Cleaning Businesses
As we mentioned above, using humor in your cleaning company's name can help you connect and resonate with your target audience or ideal client. And, the good news is, there are many ways in which you can incorporate humor such as:
Obvious Humor
Using obvious humor will allow people to know what you stand for right off the bat. So, think about using words that rhyme or are a play on words. For example:
Dustbusters Cleaning Services

Grime Scene Investigators

Maid To Order

Clean Scene Services 

Meaner Cleaners

Hot Mess Assess 

Inner Cleaner Services

Busy Bee Cleaning Company

Home Clean Home

Cleaning & Winning Services

Ace of Maids

No Dust R Us

We Maid It!

The Gleam Team
Check out this article about some cleaning business mistakes so you can avoid them.
Descriptive Humor
Coming up with words that help people understand what they are receiving as a service is also a good starting point. So, brainstorm which words could best fit your cleaning service's offering. For instance, take a look at these name options:
Squeaky Clean Office

Under the Rug Cleaners

Greener Cleaner 

Night Cleaners 

Fresh Start Home Cleaners

Hop & Mop Cleaning Services

Clean Conscience 

Scrub-a-Dorm-Dub 

Five Star Cleaning Services

Crystal Clear Cleaners

Green Touch Cleaners

Around-The-Clock Cleaners 

Organize, Clean, Repeat

Steamer Cleaning Services
Creative Humor
Another excellent way of including humor in your cleaning company's name is by thinking outside the box! Avoid using the obvious choice of words and dig a little deeper. Here are some examples of witty cleaning business' name ideas:
Gold Star Cleaners

Inside Out Cleaners

Drip & Dry 

I-shine Cleaning Services

Twinkle Time

Clean For Grins 

Spotless Reputation Cleaners

Mop Squad

The Real Deal Cleaners

Partners in Grime

Rain or Shine!

Floor To Ceiling 

Soil No More

Wishy Washi 
Tips For Naming Your Cleaning Business
As we explained before, a name can make or break your business. So, below are some key things to consider throughout your name-picking process:
Be Descriptive
You don't want your business's name to be vague or generic. Quite the opposite! You want your cleaning business's name to be descriptive. For instance, "Seattle Cleaning Service" is not only generic, but it is also dull. And more often than not, audiences have a hard time remembering generic names. 
Further, a generic name doesn't stand out from other service providers within the same industry. Think about it… Anyone operating a cleaning business in Seattle can use the "Seattle Cleaning Service." 
Therefore, try to choose something that describes your business. It could be a quality you want to highlight (e.g., fast, dependable, affordable). It could be something that plays on your brand's personality. Or it could even be a particular service that sets you apart from the competition (i.e., cleaning and organizing.)
Be original.
There are many words and phrases you can use to name your business. Thus, do not try to copy what other companies are doing. It will not only make your cleaning service seem "unprofessional," but it can also confuse potential customers. For example, if your biggest competitor's name is "Sparkling Clean Services," you wouldn't want to name your business "Squeaky Clean Services." 
Be open to other people's opinions.
The best way to assess if a name is good or if it works is by consulting it with other people. So, choose 5-8 potential names and run them by your friends and family. Once you narrow it down to 2-3 names, try getting your target audience's input. Remember, everyone thinks differently!
Thus, asking around can bring valuable input. Maybe, your name has a bad connotation, maybe it means something different in another language, or maybe some people find it offensive. So it is always good to ask for other people's opinions. 
Be thorough with your research .
It might seem like a no-brainer, but you must be 100% sure that you are not using a registered name or violating any copyright or trademark laws. There are many ways to verify if a name is already in use, including:
Conducting a quick Google search 

Browsing through social media

Looking up the name online

Consulting with your state's business filing agency 

Checking the "Doing Business As" (DBA) registrations
And if you want to be extra careful, you can always consult an intellectual property lawyer. 
Be creative… But not too creative!
Choosing obscure names for your cleaning business is not a good idea. Why? Simple. Consumers will never know what it means. 
Plus, complicated or hard-to-spell names are not easy to remember and can become a marketing nightmare. Imagine having to spell out the name of your cleaning company every time someone asks for its name. 
Be happy with the name you choose.
Lastly, pick a name you genuinely like. After all, it is YOUR cleaning business! So, even if you ask for other people's opinions, you must end up choosing something you love and can be proud of.
Check out this article here to know how to create and design your cleaning business estimate form.
Things to Avoid When Choosing a Name For Your Business
We've already covered what you should do. But what about what you shouldn't do? Below we will share 10 valuable things to avoid when choosing a name for your cleaning business:
Do not use your own name (unless you are an established brand).

Stay away from foreign names your target audience won't comprehend.

Don't select a name that could be limiting when/if your business grows.

Steer away from clichés (i.e. "Mr. Clean," "Spotless Cleaners").

Avoid spelling your cleaning business' name creatively

⁠

— in other words, don't use a "k" where a "c" should be used. 

Try not to get carried away by short-term trends. A name should endure the test of time.

Never choose a name based on domain or handle availability.

Avoid using foul or offensive language.

Stay away from long names

⁠

— there are very unpractical when it comes to branding and marketing.

Don't rush it! Choosing a name for your cleaning business is a critical step in your path as an entrepreneur. You should take your time and give it the importance that it serves.
Frequently Asked Questions
Why do I need to register my company's name? 
Registering your company's name is a brilliant move. Even more so if you are in the janitorial industry because, as you already know, it is a highly saturated market.
Registering your cleaning business's name will allow you to stand out from the competition and prevent anyone from using it. This is especially helpful when advertising online or on social media. Why? Simple. You want it so that when users lookup "Ginny's Cleaning Company," you are the only business that comes up!
Plus, from a legal standpoint, you need a name to appear on all your business formalities (e.g., insurance policies, certifications, contracts, bank accounts, taxes.) And if you are thinking of forming a sole proprietorship, then you have no choice but to register the name of your company. 
How can I register my company's name?
There are many ways you can register a company's name, as every state can have different processes. However, the most common options for name registration are:
Using a "Doing Business As" (DBA) 
Also known as registering a fictitious name, this is the simplest method for registering a company's name. The only thing you need to do is file a DBA form with your state or county clerk's office. 
Creating a business structure
Creating a business structure under your business name is the most common path when starting a new business. And by registering a Limited Liability Company (LLC) or a corporation, you are also registering your company's name.
Registering a trademark 
Another option, although it involves a lengthy and costly process, is to trademark your business's name. When you do so, you receive additional protections and can even file for a federal trademark (which will prevent anyone from using your company's name in every state.)
To learn more on how to start your own cleaning business, check out my startup documents here.
Please note that the contents of this blog are for informational and entertainment purposes only and should not be construed as legal advice. Any action taken based on the information provided in this blog is solely at your own risk. Additionally, all images used in this blog are generated under the CC0 license of Creative Commons, which means they are free to use for any purpose without attribution.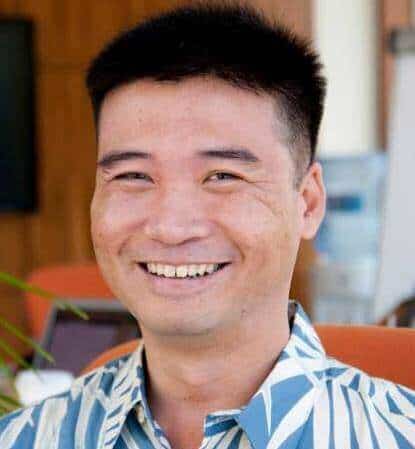 About the author. Entrepreneur and Cleaning Business Fan.
Hi! I am Shawn and I am a happy individual who happens to be an entrepreneur. I have owned several types of businesses in my life from a coffee shop to an import and export business to an online review business plus a few more and now I create online cleaning business resources for those interested in starting new ventures. It's demanding work but I love it. I do it for those passionate about their business and their goals. That's why when I meet a cleaning business owner, I see myself. I know how hard the struggle is to retain clients, find good employees and keep the business growing all while trying to stay competitive.
That's why I created Cleaning Business Boss: I want to help cleaning business owners like you build a thriving business that brings you endless joy and supports your ideal lifestyle.