If you are starting a cleaning business for the first time, there are many responsibilities that will land on your to-do list. When your business is new, your budget is often lower, which means you will have fewer funds available to hire help. However, no matter how much revenue your business is bringing in, there are essential responsibilities that you will have as the owner. We have listed the 4 most important responsibilities.
The main cleaning business owner responsibilities include monitoring progress towards goals, securing new clients, hiring new cleaning professionals, and reviewing business finances. As your business grows, your responsibilities will fluctuate. However, these 4 responsibilities will be essential for you no matter how large your business becomes.
Monitor Progress Towards Goals
In order for your business to remain successful, it is essential that you continually monitor your progress towards goals. As your business grows, you might hire employees who help you review progress towards certain goals. However, this is an area that you should never leave entirely up to anyone else.
As the owner of your cleaning business, the success of your business is your responsibility. Therefore, it is important that you regularly monitor how well your business is performing. This will help you ensure that your business stays on the right path. You will also be more likely to catch any mistakes or areas that you can work on improving.
When it comes to monitoring the progress of your business, you should take time to review the main goals that you want to work towards and then analyze how close your business is getting to reaching those goals. For example: If your goal is to have 5 commercial cleaning contracts, you will want to analyze how many you currently have and also take a look at what actionable steps you are taking to get you closer to reaching your goal.
Setting goals for your business will give you a sense of direction on the path to success. It makes it easier for you to stop and check in on how your business is doing. By striving to hit new goals, you will be much more likely to take your business to new levels. Plus, achieving goals will give you and your employees a sense of accomplishment.
Secure New Clients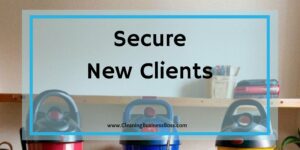 Securing new clients and taking an active role when it comes to marketing is essential for cleaning businesses of all sizes. When your business is in the newer stages, it's likely you'll be the one securing all of your new clients. With a limited budget, it is common for a business owner to do most of the marketing to get the business up and running.
If you are the main person doing the marketing and finding ways to bring in clients, you'll want to focus on using methods that are both effective and also work with your budget. Some methods we would recommend include increasing your word of mouth marketing and ensuring your business is visible online (like through social media marketing).
Even once your business has grown and you have hired a sales professional to help you, we encourage you to be involved in the process of securing new clients. Since the success of your business ultimately falls in your court, part of your regular responsibilities should be either actively securing new clients yourself or at least being a vital role in the decisions related to bringing in new clients.
If you have hired sales professionals that assist you with getting new clients and marketing, you should be regularly monitoring their progress and keeping an eye on how many new clients your business is bringing in. If the business is not bringing in new clients, you can suggest changes to help change this. Bringing in new clients is essential to take your business to the next level, so this is not an area you want to stop paying attention to.
Checking out this article to know what should your cleaning business organizational structure should be.
Hire New Cleaning Professionals
Once your business has started to get regular clients, it will be your responsibility as the owner to know when it is time to think about hiring help. Once your cleaning jobs have become too much for you to complete on your own, you need to start hiring new cleaning professionals. By hiring additional employees, you will be able to take on more new clients and start growing your business to a new level.
Similarly to the act of securing new clients, it's likely you'll be the one doing all of the hirings when you are starting your business. It is common to start with a small amount of employees and then hire on help as your business grows. In order to know when the right time to hire additional help is, you'll want to analyze your cleaning schedule. Are you having to turn down potential new clients due to limited availability in your cleaning calendar? Then it is time to hire help, so you can continue growing your business.
Hiring new cleaning professionals is an extremely important task that you want to take your time with. When you are in the interviewing process, you'll want to carefully consider each applicant and ensure they have the experience you are looking for. If you hire someone who lacks cleaning skills, the cleaning jobs they complete could be of poor quality. This will result in your clients being unsatisfied, which can hurt the reputation of your business.
Review Business Finances
During every stage of your business, reviewing business finances is an essential responsibility for you as the owner. The state that your finances are in is a large indicator of how well your business is performing and how bright it's future will be. This is why it is critical that you regularly review the business finances.
If your finances are struggling or if they are regularly in the negative, then major problems could develop in the future. By reviewing and being consistently aware of the business finances, you can make changes to get the business back on track. For example: If you realize the business is going in the negative, you can take a look at your expenses and monitor where you can reduce your spending.
When it comes to reviewing your finances, you'll also want to make sure to review your pricing regularly. If you fail to review or make any changes to your pricing, you can put the finances for your business in jeopardy. The cost of living regularly increases. Therefore, your supplies and other expenses will increase regularly over time. If you do not also increase your cleaning rates, your business will end up quickly going into the negative.
Keeping your business finances in the positive is essential to maintaining your business and helping it grow. We recommend investing in help with your finances (especially when it comes to your business taxes), but you should still also regularly review your finances on your own as well. You do not want to trust anyone else with such an important part of your business.
As the owner of a cleaning business, your list of responsibilities will be long. This is especially true when you are first starting your business and will be doing a lot of the work of building the business on your own (as your budget will likely be smaller). As your business grows, your responsibilities will change. However, the 4 essential responsibilities we have mentioned above are essential no matter what size your business grows to.
Check out this article to get an idea how much you should charge cleaning clients who live on rural areas.
Frequently Asked Questions
Is a college education required to start a cleaning business?
No, a college education is not required to start your own cleaning business. In order to start a cleaning business, you need to have a skill for cleaning, pay attention to details, and have some sort of business sense. If you do not want to get a college degree and want to increase your business knowledge, you can take business classes offered at your local community college.
How long does it take to start a cleaning business?
The amount of time it takes to start a cleaning business ultimately depends on the amount of time that you have to put into building the business. You could get the business started in as little as a few weeks due to the nature of a cleaning business. If your schedule is busy and you have less time to put into the new business, it's likely it'll take you slightly longer.
Do I need business insurance for my new cleaning business?
Yes, we recommend investing in business insurance for every cleaning business. Even if you are just starting out, business insurance is something that you do not want to skip on. It is essential that you not only have business insurance but that you also have an adequate amount to protect your business in case of an emergency.
As a cleaning business, you will be going into homes or commercial buildings and there may be expensive items that you are cleaning around. To protect your business when an accident happens, business insurance helps give you peace of mind. It is an invaluable investment and will protect your business over time.
To learn more on how to start your own cleaning business, check out my startup documents here.
Please note that the contents of this blog are for informational and entertainment purposes only and should not be construed as legal advice. Any action taken based on the information provided in this blog is solely at your own risk. Additionally, all images used in this blog are generated under the CC0 license of Creative Commons, which means they are free to use for any purpose without attribution.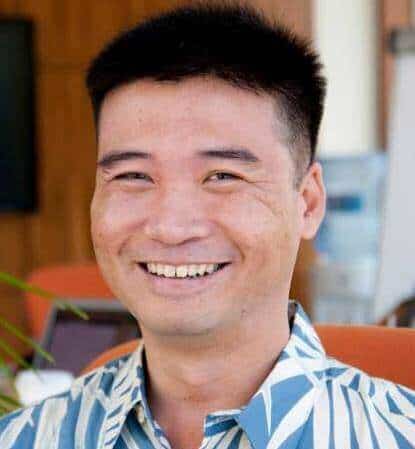 About the author. Entrepreneur and Cleaning Business Fan.
Hi! I am Shawn and I am a happy individual who happens to be an entrepreneur. I have owned several types of businesses in my life from a coffee shop to an import and export business to an online review business plus a few more and now I create online cleaning business resources for those interested in starting new ventures. It's demanding work but I love it. I do it for those passionate about their business and their goals. That's why when I meet a cleaning business owner, I see myself. I know how hard the struggle is to retain clients, find good employees and keep the business growing all while trying to stay competitive.
That's why I created Cleaning Business Boss: I want to help cleaning business owners like you build a thriving business that brings you endless joy and supports your ideal lifestyle.