There are many reasons you might require a proper cleaning business description, such as for a business plan, or to let customers have a better understanding of your cleaning business's mission and goals. Below we have compiled options for as well as an example of a cleaning business description so you do not have to research it all on your own.
A cleaning business description should be in your cleaning business plan, but it can also be used to advertise to customers. This description should include your basic information, company mission, the services you offer, and the responsibilities your cleaners recognize when they provide those services.
Some businesses find it most helpful to create the rest of their business plan before crafting their mission and description. This allows them to understand every detail of their company before trying to write about it.
Why Write a Business Plan?

Writing a business plan is a valuable step in the creation of any type of business. 
Any financial investors or lenders are going to need to see a well-crafted business plan in order to even consider giving you money. They will want to know that you have thought about every detail of your business before it even opens.
Business plans may also be important for community members or partners who may be able to support you as you start your endeavor. Without it, you may just seem like someone with a big dream but no plan.
Finally, business plans are important for you! They help you prove to yourself that you actually have a plan and are not just relying on emotion or good faith. They will keep you focused and clear as you start your efforts so that everyone is on the same page.
Basic Information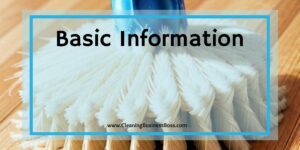 Your basic information will be crucial for everyone to understand who owns this company, where it operates, what type of entity it is, and what hours it will hold. Making this information easy to find will keep everyone focused on the more important parts of your business.
Mission Statement
By providing a mission statement that excites you and can be remembered by your customers, you can be sure everyone will know what makes you unique. This will be one of your biggest selling points as a business.
Market Research
When you ask your community what they are looking for in a cleaning business before you even officially open for business, it not only shows potential investors that you are providing a service that is needed, but it shows your community that you care about their needs too. Take the time to analyze this data before defining your business model.
Profitability
As with any business, your cleaning business needs to be able to make you money so you can continue operating. Include any and all data that proves you can do this.
Policies and Procedures
It may be helpful to consult with legal representation for this portion of your business plan. You want to be absolutely sure you are starting off on the right (and legal!) foot.
Marketing Plan
Do yourself a favor and develop a marketing plan before you even begin your business. This will keep you on track and focused as you enter any challenges ahead. Once you have crafted each section of your business plan, you can go back to the top and write out the description of your business. It is only after you have walked through the other sections of your plan that you will have the answers to write this properly, knowing it is possible to run your business profitably, legally, and exactly as described.
Check out this article to know how to manage a commercial cleaning business in another state.
How Else Can a Cleaning Description Be Used?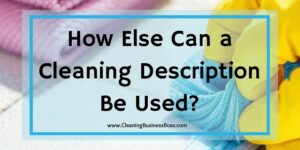 Once written, business descriptions do not have to remain in your business plan. While these plans are helpful for investors, partners, and you, personally, they do not always have the eyes of your customers. Instead, consider using your business plan in your advertising. This advertising can be online or offline. 
This description can be used on somewhat static pieces, such as your website and brochures. This will help potential customers clearly understand what you do and how you do it. 
It can also be used on more fluid pieces of marketing such as your social media posts and direct mailings. Once it is created, you can use phrases from it throughout your daily engagement with customers. Repeating this information often will help everyone remember it better.
What Makes Up a Proper Description?
Even More Basic Information
Yes, the basic information from your business plan should become even more basic in your business description. While your business plan should contain all of the details about who you are as a business, the description can be a bit simpler.
At the foundational level, make sure the name of your company is in your description as well as what area of the world you generally serve. This will help prospects who find your information know whether or not you are located in their area. 
If you are a franchise business or partnered with any other businesses, include that information. If you are a solopreneur, you can mention this too.
Mission Statement
The mission statement of your company should always be lifted up. This statement tells everyone how your cleaning business is unique when compared with other similar businesses. In your description, this mission statement does not need to be long or explained in detail. Simply make sure all readers know what makes you special.
What services you provide
This may be the meatiest section of your cleaning business description as people will need to understand exactly what you do. Some options to consider:
What specific cleaning services will you provide? (Mopping, vacuuming, dusting, wiping, window cleaning, etc.)

Will you provide all of your own materials or do you require your customers to provide some things?

Will you do any organizing for your customers or are you strictly cleaning?

Will you assist customers with moving?

Will you provide deep cleaning options? (Carpet cleaning, oven cleaning, floor polishing, wall washing, etc.)
Any of these specific services may be the one selling point that makes a specific customer hire you. Be sure to thoroughly list all of the services that you provide so that your potential clients can make the best-informed decision about whether or not to hire you.
What responsibilities your cleaners recognize
This is your opportunity to provide any additional details that may have been missed when answering the questions above. If your cleaning business has any specific guarantees, be sure to mention them here. Some options to consider:
Will you offer same-day cleaning?

Will you offer one-time cleaning or only recurring cleaning?

Will you offer free estimates?

Will you offer to return for free if your customer is not completely satisfied?

Will you offer to be especially quiet if your customer is working from home?

Will you guarantee that you will avoid dangerous chemicals?
Learn how you can buy a cleaning by visiting this article here.
Cleaning Business Description Sample
Cathy's Cleaning Company LLC is a family-run cleaning business operating in the Pocono region of Pennsylvania. Our mission is to provide the most holistic cleaning experience of the Greater Pocono region. We take pride in using all organic cleaning solutions and even go so far as to use all eco-friendly cleaning tools and attire. Our recurring cleaning packages include mopping, vacuuming, dusting, surface wiping, window cleaning, carpet cleaning, and floor polishing; all at a reasonable price. Those with same-day and one-day cleaning needs should contact us for availability. After a visit from us, we guarantee your home will sparkle from a perfect cleaning with absolutely none of the usual toxic smells or residue! If you're not completely satisfied, we will return free of charge.
Frequently Asked Questions
Which portions of my cleaning business description should I repeat the most?
While it is helpful to provide basic information and the services you will offer in your business description, the people who are truly in need of a cleaner will seek this information out. Something they may not look for but which will be important for them to know is how you are special as a cleaning business. This can be found in both your mission statement as well as any listed responsibilities or guarantees. These are the aspects of your company that will sell it to people who may not even be intentionally seeking out a cleaning business, so make sure they are easy to find and repeated often.
How do I find quality cleaners for my cleaning business?
Once you have completed the hard work of writing a business plan and a proper business description, you will have no problem using what you have written to craft a job description. Everything your potential employees will need to know can be found in the description. Be sure that your potential employees can stand behind your mission with integrity. It is of the utmost importance that all of your employees can provide a consistent image for your company.
As far as the "how to" of finding employees, you can utilize print publications, internet job sites, or word of mouth to spread the word about what you need. Whether you use one of these methods or all three, you are bound to get many applicants for your business. So, remember to only allow those who can stand behind your mission to enter your company and you will be well on your way to a successful and expanding cleaning business.
To learn more on how to start your own cleaning business, check out my startup documents here.
Please note that the contents of this blog are for informational and entertainment purposes only and should not be construed as legal advice. Any action taken based on the information provided in this blog is solely at your own risk. Additionally, all images used in this blog are generated under the CC0 license of Creative Commons, which means they are free to use for any purpose without attribution.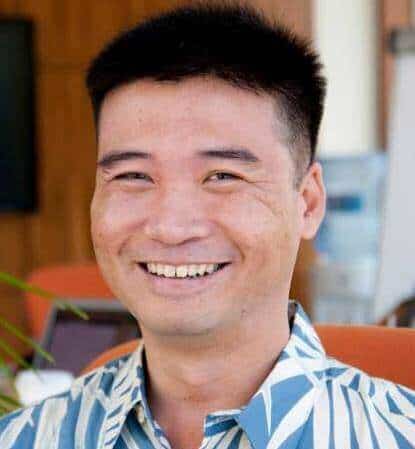 About the author. Entrepreneur and Cleaning Business Fan.
Hi! I am Shawn and I am a happy individual who happens to be an entrepreneur. I have owned several types of businesses in my life from a coffee shop to an import and export business to an online review business plus a few more and now I create online cleaning business resources for those interested in starting new ventures. It's demanding work but I love it. I do it for those passionate about their business and their goals. That's why when I meet a cleaning business owner, I see myself. I know how hard the struggle is to retain clients, find good employees and keep the business growing all while trying to stay competitive.
That's why I created Cleaning Business Boss: I want to help cleaning business owners like you build a thriving business that brings you endless joy and supports your ideal lifestyle.