With over 660,000 listings in the United States, Airbnb provides a wide variety of travelers with a more cost-efficient alternative to staying in a hotel. According to Capital Counselor, there were over 193 million bookings through Airbnb in 2020. Because hosts will not always be up to the task of cleaning these rentals, there is an expanding market for Airbnb cleaning services. So, how do you become a cleaner for Airbnb? Let's find out…
Because it is the responsibility of the host to ensure that the rental is clean for the next guest, cleaning services are hired by the owner of the rental unit. To become a cleaner for Airbnb, you must market your cleaning service to individual owners, instead of the Airbnb corporation.
Let's take a look at the cleaning specifications that are put into place by Airbnb, and the responsibilities of vacation rental owners to maintain those standards. We will also closely examine how to market your cleaning business to these vacation rental owners, as well as how to land repeat business with them.
How do I Market my Cleaning Business to Airbnb Rental Owners?
Make a Step-By-Step Plan
As the owner of a cleaning service, you need to know how to market your business to clients like this. According to VR Scheduler, the first thing you should do is to market your cleaning business to Airbnb rental owners is to develop a step-by-step marketing plan that is aimed specifically toward them. This step may not initially sound important, but it is possibly the most important step in marketing your cleaning service.
After all, when you started your cleaning business, you developed and wrote a business plan, didn't you? While your business plan is a roadmap to success for your cleaning service, a step-by-step marketing plan is a roadmap for success when it comes to your marketing campaign.
Check out this article to learn some training about janitorial cleaning.
Do your Research
The next step is to do your research. While research may not be exciting, it is a necessary step when it comes to marketing your cleaning service to Airbnb rental owners. Knowing who you are doing business with is an essential aspect of doing business. You also need to know about the competition that you are up against in this space. Find out which competing cleaning services are cleaning for rental owners, what services they offer, and how much they are charging.
This gives you an idea of where to start during the bidding process when you are trying to land these jobs. It would also benefit you greatly to have a working knowledge of the standards that are expected of you buying Airbnb and rental owners.
Make sure your Cleaning Business is Professional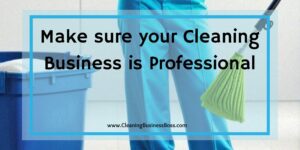 If you do not already own a cleaning service, now would be a great time to find out your state's regulations and requirements regarding owning and operating a cleaning service. Because of the high standards Airbnb has for their rental units, they are not going to do business with anybody who is not a professional. Once you have obtained all of the necessary licenses and permits that are required by your state, businesses such as Airbnb will take your cleaning service much more seriously, and rental owners will be more likely to give your service serious consideration when it comes to fulfilling all of their cleaning needs.
Check Out Other Airbnb Cleaning Services
Now that you have set up your cleaning business, and you have done all of your research, it's time to start marketing your cleaning service to Airbnb vacation rental owners. The best place to start marketing your business is through your friends and family. Find out if any of them are Airbnb hosts, and see if they would be willing to give your cleaning service a chance.
You can also ask them to recommend your service to other rental owners. There may even be a few people in your circle who are connected with Airbnb rental owners. You can ask them to put in the proverbial good word for you. Another avenue you may want to pursue is friends or family who frequently stay at Airbnb rentals. They can leave your business card on a table when they check out.
Contact Vacation Rental Owners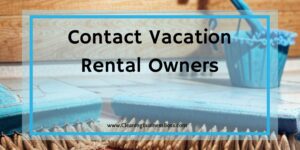 Another marketing tactic that may require a little more work on your part would be to compose a list of all of the Airbnb listings in your area, and contact the rental owners regarding your cleaning services. There is a good chance that if some of these rental owners do not already have a cleaning service, they would be willing to hear your business proposal.
This is where having a well-thought-out and executed business proposal would be quite handy. This tactic may require quite a bit of footwork on your part, but most vacation rental owners would appreciate the opportunity to meet you in person.
Use Your Social Media and Your Website
The most often used marketing strategy is through electronic marketing. Having a great social media account for your business is one of the best marketing tools your cleaning service can have. If your marketing budget allows for more than free social media accounts, you can always purchase Google ads for your cleaning service. Facebook also offers ad apace where you can advertise your business.
Another great marketing tool for your cleaning service is a professional-looking website. This is an electronic billboard for your business, so be sure to seek the help of an experienced web designer.
Check out this article to learn how much does a garbage can cleaning business can make.
Airbnb's Cleaning Standards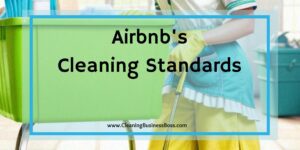 Finally, Airbnb has a five-step cleaning process that all vacation rental owners must see is followed. These steps are as follows:
Proper preparation, which ensures that your cleaning team is working more effectively and efficiently.
Cleaning to remove dust, dirt, and grime from all surfaces.
Sanitize with Airbnb-approved disinfectants to remove germs and bacteria from all surfaces.
Refer to the custom checklist provided by Airbnb to ensure that you have given the rental unit a proper cleaning.
Make sure that rooms are completely clean before replacing items in them to prevent cross-contamination.
Per the Airbnb website, they have recently implemented a new standard that must be followed by each of their vacation rental owners. Starting with disinfection, rental owners are responsible for seeing that only disinfectants that are approved by local regulatory agencies are used in their vacation rentals. Next, hosts and professional cleaning services are required to wear personal protective equipment when cleaning, such as masks and gloves. High-touch surfaces must also be sanitized regularly.
Summary
If you want your cleaning service to clean Airbnb vacation rentals, you must make sure that you are marketing properly. You need to start your marketing campaign with a step-by-step plan. Once you have your plan, it's time to research your potential customers. One of the most effective ways to do this is by having a professionally licensed cleaning business.
You can also use any connections you may have in your circle to gain referrals, or even acquire knowledge of the requirements and standards of Airbnb. Finally, use every possible avenue of electronic marketing to advertise your business, such as Google ads, business social media accounts oh, and a great website.
Once you have established yourself as an experienced Airbnb cleaning service, you can rely on one of the oldest forms of advertising. Word-of-mouth advertising is said to land more business than any form of advertising. Doing a professional and thorough job will not only get your cleaning service the repeat customers it needs to stay afloat, but it will also help you to gain new customers for your business to thrive.
Frequently Asked Questions
What are the key elements of a good business website?
A great website is one of the most effective marketing tools you can have for any business. However, there are several elements that web designers Implement in their web pages that make the experience better for customers. The most important element of a good business website is navigation. If a website is not easy to navigate, most people will click out of it immediately. Next, you want to have an eye-catching design oh, and great content. The website must also be web-friendly and Interactive. Finally, branding is one of the most essential elements of a Business website.
How do I use social media accounts to Market my business?
Social media accounts have become one of the most popular and user-friendly ways to market businesses. Some people recommend marketing your business on your social media accounts, While others recommend keeping these accounts separately. Whichever you decide to use, the most important step in using social media accounts to promote your business is to find the right platform. If you are not marketing to the right people, it doesn't matter how great your social media account is. You should also be engaging while making sure that you do not over-promote your business. People are interested in you as a person. Perhaps the most important aspect of using social media to promote your business is to build a community.
To learn more on how to start your own cleaning business, check out my startup documents here.
Please note that the contents of this blog are for informational and entertainment purposes only and should not be construed as legal advice. Any action taken based on the information provided in this blog is solely at your own risk. Additionally, all images used in this blog are generated under the CC0 license of Creative Commons, which means they are free to use for any purpose without attribution.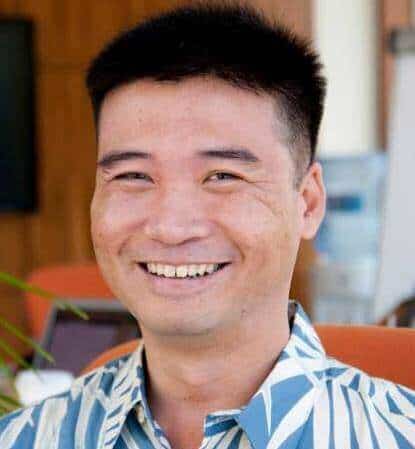 About the author. Entrepreneur and Cleaning Business Fan.
Hi! I am Shawn and I am a happy individual who happens to be an entrepreneur. I have owned several types of businesses in my life from a coffee shop to an import and export business to an online review business plus a few more and now I create online cleaning business resources for those interested in starting new ventures. It's demanding work but I love it. I do it for those passionate about their business and their goals. That's why when I meet a cleaning business owner, I see myself. I know how hard the struggle is to retain clients, find good employees and keep the business growing all while trying to stay competitive.
That's why I created Cleaning Business Boss: I want to help cleaning business owners like you build a thriving business that brings you endless joy and supports your ideal lifestyle.