Are you a California resident who is also a self-proclaimed pro cleaner? Consider opening a cleaning business to gain the independence of running your own business and to serve customers' cleaning needs in your community.
According to Housecall Pro, California is the state with the highest number of cleaning businesses in the United States at 2,347 as of August 2019.
https://www.housecallpro.com/learn/cleaning-industry-statistics/
The 8 steps to open a California based cleaning business are as follows.
Choose the type of California cleaning business to run.
Get the 411 on California's DBA process for new cleaning businesses.
Get a contractor license for your cleaning business in the state of California.
Apply for a cleaning business checking account at a California bank.
Register with California to gather taxes on your cleaning business services.
Find a supplier in the California area for your cleaning business.
HIre qualified California residents to help run the startup cleaning business.
Spread brand awareness about your cleaning business to local California residents.
Because of the state's high population of 39.51 million people as of 2019, this means there are more cleaning needs amongst its residents. Therefore, that means a higher number of cleaning businesses in the state.
While the industry may be saturated in California, what's one more cleaning business added to the mix? With so much competition in the area, you can find a way to differentiate your brand to attract customers to purchase your cleaning services.
Choose the Type of California Cleaning Business to Run
A cleaning business can be more than just housekeeping or janitorial work. However, we will still highlight them as options because of their popularity amongst cleaning business owners.
Blind Cleaning
Residential clients with multiple rooms and windows in the home may require blind cleaning services. If they do not have the time and/or
patience to get the task done, they may call on your blind cleaning service to do it for them.
Commercial clients could have the same need because they will have even more windows with blinds that need cleaning. This will depend on how large the building is and how many windows are in each room.
Blind cleaning should be done with the proper commercial blind cleaning equipment to increase productivity amongst your employees. Rather than wiping the dust with an all-purpose cleaner and a rag, the most professional way to clean blinds is with a commercial steam cleaner.
Ceiling and Wall Cleaning
We may not see it with our eyes, but a lot of dirt, oil, and other allergens can get caught on walls and ceilings. Owning a ceiling and wall cleaning service can help save your residential and commercial customers money on having to repaint a room.
Cleaning walls and ceilings every so few year has shown to:
Increase lighting in a room.
Create a cleaner breathing atmosphere for you and your family.
Reduce allergens that could affect health such as mold, dust, and cobwebs.
Housekeeping
Who doesn't wish for someone to just come in and clean their house for them? We wish it all the time when we are so annoyed by a mess in the kitchen or disorganized cabinets.
Housekeeping services provide regular cleaning of residential clients' homes. Housekeepers employed by your business may do laundry, dust, wash and dry dishes, clean surfaces, and more.
Try to start your employees off with a small set of tasks before graduating to larger ones such as organizing a closet or decluttering a space for a client.
What makes a cleaning business great? Find out here:  https://cleaningbusinessboss.com/?p=3938&preview=true
Janitorial Services
Commercial clients such as schools, offices, small businesses, and more could benefit from janitorial services. If employees and owners do not have time to clean the facility themselves, they can outsource your janitorial services to clean bathrooms, empty trash cans, wipe down surfaces, and sweep and mop the floor.
Niche Services
Here are some niche services that you may consider providing in your cleaning business.
Decluttering services.
Restroom cleaning services.
Post crime or post-trauma cleaning services.
Pressure washing.
Window cleaning.
Find out more information about niche cleaning services by reading this Entrepreneur article.
https://www.entrepreneur.com/article/232941
Get the 411 on California's DBA Process for New Cleaning Businesses
Figuring out if you need to file a "Doing Business As" application with your country clerk is not as difficult as you may think.
Here's the specifications.
If you are a sole proprietorship with your name included in the business title, you will not need to file for a DBA.
If you are in a general partnership with your name and partner's names included or the other suggested partner words, then you do not need to get a DBA application.
However, if you wish to run a corporation or LLC, you need to file a DBA application.
Here's an example.
Cindy Moore wants to run a housekeeping business. If she wants to be a sole proprietor and names her business any of these names, she will not have to file for a DBA.

Cindy's Housekeeping.
Cindy Moore Housekeeping Services.
Moore Housekeeping Services.

If she were to go into a partnership with her sister, brother, daughter, or son, any of these names are acceptable to use, so she does not have to file for a DBA.

Cindy & Sons Housekeeping.
Moore & Daughters Housekeeping.
Moore & Company Housekeeping.

If Cindy Moore wished to become a corporation or LLC, she must file a DBA application. She could use names such as:

Sparkle & Moore Housekeeping.
Moore to It Housekeeping.
Moore in Store Housekeeping.
Get the 411 on California's DBA's by visiting the State of California Franchise Tax Board's Guide to DBA's.
https://www.ftb.ca.gov/about-ftb/newsroom/tax-news/november-2019/guide-to-dbas.html
Get a Contractor License for Your Cleaning Business in the State of California
The Department of Consumer Affairs Contractors State License Board (CSLB) is in charge of handing out licenses to cleaning business
contractors in the state of California. The CSLB's headquarters in Sacramento only accepts checks, money orders, and cash payments at this location.
You can visit this location if you live close by to pay any license related fees. If you live too far from the headquarters location listed below, you can mail it in to the address.
Licensing a cleaning business in California is $530 base pay alone. The original application is $330 and the initial licensing fee is $200. Make sure to figure that into your cleaning business's startup costs.
There are 3 options that you can choose from to fill out and submit the original license application form which can be found on this CSLB page.
https://www2.cslb.ca.gov/About_Us/Library/Forms_And_Applications.aspx
Fill out the easy-fill PDF on your computer, print it out, and send the $330 application fee via check or money order.
Print out a blank PDF document, fill it out by hand, and send it to the address with the $330 application fee via check or money order.
Request that an application is mailed to your address. Fill it out by hand and submit to headquarters with the $330 application fee via check or money order.
Access the easy-fill PDF version by clicking here.
https://www2.cslb.ca.gov/OnlineServices/WebApplication/InteractivePDFs/ApplicationForOriginalContractorsLicense.aspx
As long as you have a timely active renewal, it only costs $450. Contractor license renewals are every 2 years.
For a full list of fees, visit the CSLB's fee list here.
https://www2.cslb.ca.gov/About_Us/Library/Fees.aspx
Apply for a Cleaning Business Checking Account at a California Bank
Even though you will be profiting from your own cleaning business, it is best to get a business checking account for all the income and expenditures that your business will incur to keep it separate from your personal finances.
In the state of California, you can try these banks when applying for a business checking account. These are bank names besides well-known bank names such as Wells Fargo, PNC Bank, and the like.
Axos Financial.
Banc of California.
Community West Bancshares.
First Women's Bank of California.
East West Bank.
Los Angeles National Bank.
When finding the best business checking account for your cleaning startup, consider these specifications.
Annual Percentage Yield (APY) Rate on Your Cleaning Business Checking Account
The larger your business and larger your profits could mean you qualify for a business checking account with a good Annual Percentage Yield (APY) rate.
For example, at Axos Financial, there's a basic business checking account with no maintenance fees or annual percentage yield. This is best if your business is just starting out and you are waiting to see how much profits you can make in the first year.
Once you have garnered enough profit, you can upgrade to the business interest checking account that offers 0.81% APY.
Minimum Balance Rates on Your California Cleaning Business Checking Account
Your profit will affect your overall daily balance. To upgrade to the business interest checking account at Axos Financial, you must maintain a daily balance of $5,000. As long as you have enough money in your account to pay for your monthly business bills, you can maintain this $5,000 minimum to keep the 0.81% APY.
Whatever bank you choose may have a different minimum balance rate and APY, so conduct your research to find the best setup that works for your cleaning business.
Minimum Deposit Amount on Your California Cleaning Business Checking Account
Be sure that you look at the minimum deposit amount on your chosen California bank. Going with the Axos Financial example, the minimum deposit for the basic business checking is $1,000 and the minimum for the business interest checking account is $100. However, the business interest checking account must have a $5,000 minimum daily average balance to evade the $10 monthly maintenance fee.
Find a Supplier in the California Area for Your Cleaning Business
Find a supplier who will restock your cleaning supplies as you need it. This is better than going to a grocery store to pick up your supplies. You will have the expenses on the books in a more professional way by partnering with a supplier. Plus, it will simplify the restocking process because you can order from them and they will ship your needed supplies to you within a few days.
California wholesale cleaning supply companies include:
Empire Cleaning Supply in Montebello, California or Los Angeles, California.
California House of Cleaning Supplies (online platform)

Get free shipping on orders of $35 or more if you are receiving your goods to Orange County, CA.
Continental Chemical and Sanitary Supplies in Anaheim, California
Register with California to Gather Taxes on Your Cleaning Business Services
Whether your business is a sole proprietorship, partnership, corporation, or LLC, you must apply for a California seller's permit to collect sales tax on your cleaning business services. Collecting taxes from customers will help you to pay the state of California what they are owed at the end of the year during tax season. Not doing this step can cause serious consequences for the IRS for failing to collect sales tax.
When you apply for a California seller's permit, you must provide:
Your name and SSN.
Information about managers, partners, etc.
Information about your accountants and banks.
Information on personal references.
The company that processes your credit card transactions (if applicable).
Federal and state numbers

Federal Employer Identification Number (FEIN).
State Employer Identification Number (SEIN).
North American Industry Classification System (NAICS).

And more based on your business affiliation.
Find out more about your rights and responsibilities as you apply for a California seller's permit by clicking here.
https://www.cdtfa.ca.gov/formspubs/pub73.pdf
Hire Qualified California Residents to Help Run the Startup Cleaning Business
What makes a qualified candidate for your cleaning business? Keep these specifications in mind as you hire employees to help run your startup.
Years of Experience in the Startup's Cleaning Niche
1-3 years of experience for the lowest base pay at your company.
If more than 3-4 years of experience, raise the base hourly rate for a competitive pay structure.
So on for candidates that have 5-6 years of experience.
Can be a home cleaning experience.

Stay-at-home mother or father for X amount of years.
Having children or pets in general while balancing a job.
Homeowner cleaning tasks for X amount of years.

Can be an on-the-job experience.

Have them list the tasks they did on the job.
Personality & Demeanor When Doing the Cleaning Job
Motivation. 

 

Thoroughness. 

 

Pride in their work.
Ability to be flexible.
Proficiency in Job Skills
How well can the candidate perform specific key tasks related to your cleaning niche?
How does a candidate's cleaning specialty set him or her apart from the other candidates applying to the same job?
Spread Brand Awareness About Your Cleaning Business to Local California Residents
Get in Touch with California Real Estate Agents and Property Managers
The key method of getting more repeat residential clients for your cleaning business is getting in touch with real estate agents and property managers.
Real estate agents can point you in the right direction of popular residences throughout your local city or county in California.
Property managers of apartment complexes may be more than happy to leave your business cards and flyers in their front office or post them at tenants' doors. If they are able to have residents pay for a cleaning business rather than have their maintenance employees clean up after a messy person moves out, this will save money on productivity in the long run.
Direct Mail to California Residents
Go to a direct mailing list generator website, type in your target market demographics, and you will be given a mailing list based on the specs you provide. All you'd have to do is pay a small fee for accessing this mailing list, and then you can mail out flyers, business cards, and more
to local residents.
Social Media
Create a Facebook page as your starting social media page before creating other profiles on different profiles. You can share upcoming events, sales and promotions, and even daily musings.
Upcoming events may include grand opening day, fundraising events, local community day appearances, and more.
Sales and promotions could be holiday specials, birthday promotions for loyal clients, and more.
Daily musings could be a question like, "What is your favorite all-purpose cleaner to use at home and why?"
Visit the Online Cleaning Coach for more ways on spreading brand awareness about your cleaning business.
https://www.online-cleaning-coach.com/how-to-get-cleaning-contracts/
Related Question:
Should I get a credit card for my California cleaning business?
Yes, if your personal credit score is good, get a business credit card account to increase the credibility of your business amongst creditors. This is a good venture to try in case your business needs more loans down the line. Then you would already have built a trustworthy credit history for lenders to give you a loan in the future.
Why should I get a business interest checking account versus just a standard business checking account?
Build your business to be able to handle the minimum requirements of a business interest checking account to:
Accumulate interest on your account's balance.
Use the interest to pay off smaller bills over the months.
Attribute the interest to your business savings account.
Please note: This blog post is for educational purposes only and does not constitute legal advice. Please consult a legal expert to address your specific needs.
Looking to start your own cleaning business soon? Check out my course and startup documents here.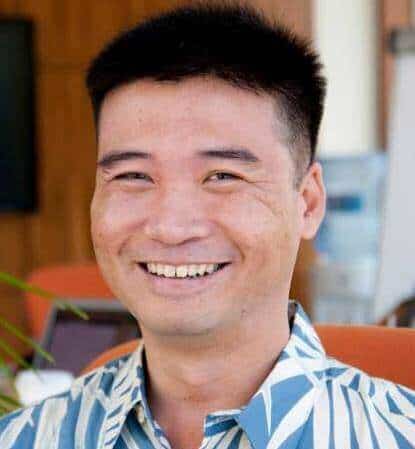 About the author. Entrepreneur and Cleaning Business Fan.
Hi! I am Shawn and I am a happy individual who happens to be an entrepreneur. I have owned several types of businesses in my life from a coffee shop to an import and export business to an online review business plus a few more and now I create online cleaning business resources for those interested in starting new ventures. It's demanding work but I love it. I do it for those passionate about their business and their goals. That's why when I meet a cleaning business owner, I see myself. I know how hard the struggle is to retain clients, find good employees and keep the business growing all while trying to stay competitive.
That's why I created Cleaning Business Boss: I want to help cleaning business owners like you build a thriving business that brings you endless joy and supports your ideal lifestyle.