So you're wanting to start a cleaning business in Georgia? Great! Georgia is a wonderful place to start a cleaning business due to its exceptional small-business resources, state funding, and affordable cost-of-living. I know you want to get out and start servicing your clients right away, but there are a number of things you need to handle before you get out and start making money.
If you are looking to start a cleaning business in Georgia, here are the 5 steps you need to take:
Create a business plan

Become legally compliant

Create a marketing plan

Purchase equipment

Hire employees
Create A Business Plan
Before anything else you should develop a business plan to answer questions such as:
Is this a viable business?

What's my target market?

What will my expenses be?

What's my budget?

When will I begin to turn a profit?

How will I find customers?

What type of business will this be (Sole proprietorship, partnership, LLC, or corporation)
There are a number of other questions to address but these are a good starting point. Your business plan highlights some of the challenges you will face so you can prepare a plan for how to solve them.
Your business plan is meant to be a dynamic document that evolves as your business grows. Make sure you are updating your business plan regularly so it aligns with your goals and current status.
If you're going to be applying for funding you will need to make a more extensive business plan, the standard format includes the following:
Executive Summary

Company Description

Market Analysis

Organization & Management

Service or Product Line

Marketing & Sales

Funding Request

Financial Projections

Appendix
For a cleaning business, we recommend formatting your business plan in the "Lead Startup" format, which includes:
Key partnerships

Key activities

Key resources

Value proposition

Customer relationships

Customer segments

Channels

Cost structure

Revenue streams
You can find more information and sample business plans here: Write your business plan
Become legally compliant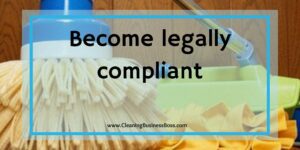 It is important to do your research to make sure you are compliant with Georgia laws and business regulations. Some things you need to do:
Register your unique business name with the Secretary of State's office.

File your federal tax identification number with state and local revenue offices.

Choose what type of business to register. (Sole proprietorship, partnership, LLC, or corporation.)

Obtain a federal employer identification number from the IRS office and register the number with state and local agencies.

Obtain a business license from the Georgia Department of Revenue.

Obtain business insurance.

Join the Georgia chapter of the Association of Residential Cleaning Services International (ARCSI) if you serve residential customers, or the United Professional Cleaning Alliance if you serve commercial clients.

Join your local chamber of commerce.
If you need more information here are some more resources on Georgia law:
Learn how to start a restaurant cleaning business by checking out this article here.
Create A Marketing Plan
Now that you have all of your bases covered legally, it is time to get the word out and find customers who need your services. Your marketing plan should be detailed and contain key factors that will make your business succeed such as pricing, unique selling points, and your ideal customer.
Cleaning Services Start-Up Marketing Plan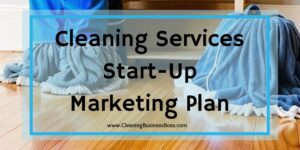 Target market and ideal customer avatar
Identifying your target market helps you understand what your customer's pain points are and how you can alleviate these problems. For example, a customer in downtown Atlanta is going to have different needs than a customer in Gainseville. Developing an ideal customer avatar allows you to tailor your marketing message to reach customers that are in need of your services.
Identify competitors
In Georgia, whether you are in the Atlanta area or the more remote parts of the state, you are going to be competing with others for business. Your competitors can give you ideas of what you should include in your marketing plan and what you should change to differentiate yourself.
What makes your business unique?
Having a unique selling point can be the difference between a loyal customer and a missed opportunity. When starting out it will likely be something service or pricing related, some ideas include:
Faster service than the competition

Free quotes

Coupons/freebies

"Free rug cleaning with purchase of…"

2 cleanings for the price of 1
How will you grow your customer base?
This should be a multiple pronged approaches with a way to track each so you can analyze what is working and what is not. Some good ways to obtain customers when first starting out are:
Register with search engines and local resources:

Make sure your business is listed on Google for your area. Local directories such as the chamber of commerce are also a great place to be listed for free. Social media sites typically have local groups that allow small businesses to post their services.

Incentivize referrals and testimonials:

People look for social proof to make sure a company they are hiring is trustworthy and will do a good job. When you are first starting out it is well worth it to offer incentives to your customers to give you a google review, testimonial, or refer your business to friends.

Network in the local business community:

Networking with other small businesses in Georgia will not only give you access to customers, but it will give you support and information that will help you improve your business. Real estate agents are a great resource if you can find one, to partner with where you could offer a discounted or free cleaning for new homeowners. Some great networking resources for Georgia:

Paid Options:

If you have the resources available, there are some useful options that could give your business the boost it needs to get off the ground, some of these options include:

Local print advertising

Google ads

Hiring an SEO consultant
Purchase Equipment
This is a pretty self-explanatory one, there are certain things you need to get the job done right. The important part is finding reliable sources that will save you money and not give you any problems you don't need. Some typical items you need when starting your cleaning business:
Sponges, scrubbers, and brushes

Protective equipment (gloves, masks, goggles)

Broom with dustpan

Mop with bucket

Dusting equipment

Cleaning solutions (multisurface, glass, wood, bleach)

Washcloths and paper towels

Garbage bags

Vacuum

Caddy to carry equipment
Remember that some customers may require you to not use certain cleaners or use a special kind if they have allergies or sensitivities to certain products. You can also offer natural cleaners at a premium or position your business as environmentally conscious.
You can buy everything at local businesses, but in the long run, this is much more expensive than purchasing from a wholesaler. There a number of wholesale suppliers to choose from in Georgia that will save you a considerable amount of money and provide exceptional customer service. Some recommended suppliers in Georgia:
You can also purchase from national suppliers such as:
Check out this article to know the difference between a residential and an office cleaning business.
Hire Employees
Your employees are perhaps the most crucial part of your business. Your employees will be the ones interacting with customers on a regular basis, as well as the ones performing the actual service that will then be judged by customers. Hiring experienced cleaners is an option, but can quickly turn too expensive and eliminate your profits. Finding help for the right price can be a bit of a challenge, but if done right will save you money while keeping your customer service at an elite level.
Guide to finding great employees in Georgia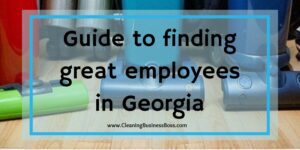 Use online platforms to find and sort through prospects.

You can use social media and online job sites to post your jobs and get qualified candidates. Top platforms are:

Ask the right questions.

It can be difficult to find the right people just from an online search or a quick interview. It is more important to hire based on attitude (as opposed to experience) in this situation. When communicating over the phone or performing the interview, look for these traits to increase your chance of getting a great employee:

Are they on time for the interview?

Do they have a positive and friendly demeanor?

What's their current employment situation?

What are some of their goals and aspirations?

What are some things they want to get out of this job?

Keep your great employees happy.

Once you have some employees hired, inevitably some will be better workers than others. Identify these employees and make sure they are satisfied with their position. This can be done with more financial compensation, but treating your employees with respect and kindness also plays a big part.
Make sure you follow these 5 steps to create a successful business that is built to last: create your business plan, research Georgia law, develop a marketing plan, purchase equipment, and assemble your team. Then you will be ready to get out there and start cleaning!
Frequently Asked Questions
Are commercial or residential clients more profitable?
Both have their unique advantages and disadvantages.
Commercial clients
More equipment and manpower needed

Lower margins

More consistent work
Residential clients
Higher margins

More flexibility with appointments

Easier for smaller companies

Less frequent cleanings
How do I handle customer complaints?
Customer complaints are inevitable. It is important to reduce customer complaints by hiring quality employees and providing quality customer service, but when you do receive a customer complaint:
Apologize right away.

Get a clear understanding of what the issue is.

Ask the customer how you can make it right.
It is best to offer a free or discounted cleaning instead of a refund because this retains the customer and gives you a chance to redeem yourself. If they are demanding a refund, issue the refund and apologize again.
Resources
To learn more on how to start your own cleaning business, check out my startup documents here.
Please note that the contents of this blog are for informational and entertainment purposes only and should not be construed as legal advice. Any action taken based on the information provided in this blog is solely at your own risk. Additionally, all images used in this blog are generated under the CC0 license of Creative Commons, which means they are free to use for any purpose without attribution.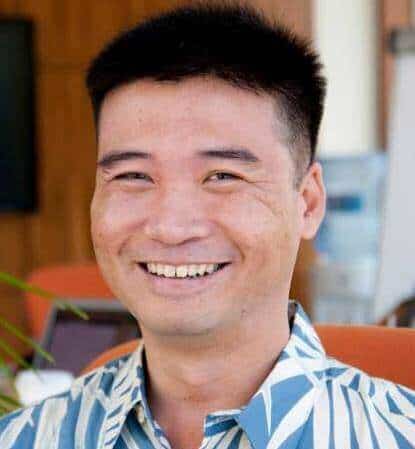 About the author. Entrepreneur and Cleaning Business Fan.
Hi! I am Shawn and I am a happy individual who happens to be an entrepreneur. I have owned several types of businesses in my life from a coffee shop to an import and export business to an online review business plus a few more and now I create online cleaning business resources for those interested in starting new ventures. It's demanding work but I love it. I do it for those passionate about their business and their goals. That's why when I meet a cleaning business owner, I see myself. I know how hard the struggle is to retain clients, find good employees and keep the business growing all while trying to stay competitive.
That's why I created Cleaning Business Boss: I want to help cleaning business owners like you build a thriving business that brings you endless joy and supports your ideal lifestyle.