Having a great company name is an essential element of any cleaning business. Your business name is how clients remember you and how they characterize you. Therefore, it must be well-planned and self-standing, demonstrating the core values and tone of your cleaning business. But choosing the perfect name doesn't have to be stressful or difficult. In fact, it's the first step to developing your own, unique company. 
A well-developed business name is unique, memorable, and properly registered. It's not too short and describes the nature and personality of your company without being too long or detailed. It's also well-researched and trademarked to prevent other businesses from using the name, which can be particularly important with client referrals, as well as state and business transactions.
Brainstorming Your Cleaning Business Name 
The first step in choosing the ideal name for your cleaning company is to develop a few catchy ideas that you like. These initial name ideas should be easy to spell, short, and should envelop your company's services without limiting them. It should also use wording that helps demonstrate your company's core values and mission. Your business name may also include location information, which can assist in anchoring your business within your local area. Keep your business name personal, avoiding community input; others can unwittingly depersonalize your business name, creating a general and potentially less successful company name.
Avoid Using Misspelled Words
While the name "Kal's Kleaning" is short and to the point, its misspelling and inclusion of a name with multiple spellings can make it difficult to find and contact.
Don't Limit Your Service List
The name "Albuquerque's Top House Cleaners" communicates the location and service area of the business, as well as the service. But, it limits future growth prospects of the company such as commercial or industrial cleaning services. When selecting a name for your cleaning business, be careful to keep your service references general while providing some insight into the service. The cleaning company "Merry Maids" effectively communicates the work ethic represented, as well as the services, without limiting the business type.
Keep Your Name Short And Simple 
Names that are too long or complicated are more difficult to remember than short, catchy names. A name like "South Chicago's Best Cleaning and Janitorial Services" is descriptive, but still very general and long. Keeping your cleaning business name short and personalized helps prospective clients remember who you are.
Using Location-Based Terms 
While many think location-based terms like town names and directional words can help your business, others believe they hinder the company. Some experts say that the use of location-based terms can help with marketing efforts as well as creating a personal connection with local patrons. However, there are also experts who insist the use of these words creates a limited-service area and client base. In the end, the use of location-based wording has worked well in many instances and has also hindered success in multiple situations. Make sure to research the success rate of using these terms when choosing your cleaning business name. 
Know what are the skills you need to be a cleaner by visiting this article here.
Researching Your Company Name 
Proper research is key in selecting a great cleaning company name. Operating under a cleaning company name without the needed research can, and often does, lead to lawsuits, fines, and, in some cases, a cease and desist order for your business. Thorough research prevents the unintentional use of an already registered or trademarked name and helps to ensure that your name can be properly registered and trademarked.
Local Research 
Research each prospective name online, looking locally and nationally for businesses with the same or a similar name. This could help narrow your choice list. Your cleaning business shouldn't have a name that can be easily confused with another company so avoid using terms or phrases that other businesses are already implementing. This will help your business stand out from the competition and prevent hardships in later marketing efforts and client acquisitions.
Registration Research
Once you have completed general name research, complete a check with the Secretary of State to ensure that your business name isn't already taken. Not only does this prevent confusion with clients, but also prevents trademark or other proprietary lawsuits.
Trademark Research 
Before settling on a name for your cleaning business, it's a good idea to complete a trademark search with the US Patent and Trademark Office by using USPTO.gov. This ensures that the names you're considering aren't already taken. Using a trademarked name can result in serious fines and possible dissolution of your company.
Online Research 
Online functionality is also important in today's business world. Research your domain options for each name you're considering, keeping in mind that .com names are more productive than .net, .biz, or .co options. It's a good idea to perform research for keywords as well, making note of words or phrases that are commonly used. Including commonly used options can make an appearance in searches more difficult.
Ensuring Your Cleaning Business Name Is Properly Registered 
Once thorough research has been completed and you have chosen the perfect name for your cleaning business, it's time to register your name with the proper channels. Equipped with its new name, your company is ready to be registered with your state as a new business. It should also be registered with your local officials for a business license. These crucial steps prevent problems like fines, lawsuits, and even business shutdown.
Trademarking Your Business Name 
Trademarking your business name has a multitude of benefits including protection from other businesses operating under the same name and automatic reservation of coinciding domains and social media handles.  
Once your cleaning business name is trademarked, other businesses can be penalized for using the same name. This can help keep your company name original and unique, creating an easier marketing landscape. This can also keep competing businesses from treading on your direct or online marketing efforts. 

 

A trademarked business also an automatic right to online domains and social media names that are an exact match to the trademarked phrase. This keeps competing businesses from using identical phrasing, as well as giving your business the opportunity for a fluently branded company and name throughout all platforms.

 
The cost of a trademark is about $325 per class for each filing. If your business falls under more than one class and you wish to trademark it under each, you can expect to pay a separate fee for each. However, the more classes your business name is registered with, the fewer businesses have an opportunity for the same name.
Learn how to start a cleaning business in South Carolina by visiting this article here.
What To Consider When Planning For A Trademark
If you plan to trademark your business name, you should plan for the step from the very beginning. A trademarked business name must have unique, detailed phrasing. A company cannot trademark a name such as "New York Cleaning Service" because the included terms are used too commonly in general company descriptions. A trademarked name must use terminology that is specific and not used by the general public.  
You should also complete online research to ensure connected domains are not already in use or purchased. While a trademark can ensure the right to unused domains of an exact match, domains already in use are excluded from this list. Get the most from your trademark by ensuring that your phrase is available online. 
Once your cleaning business name is properly registered and trademarked, you are ready to open your doors. It's a good idea to perform intermittent research to ensure no other businesses adopt your business name in the future. This research can also prevent online overlap caused by similar domains and registries, which can cause confusion with clients, reviews, and contact information.
Frequently Asked Questions
Can I change my cleaning business's name once I have registered it? 
With the proper paperwork, it is possible to change your cleaning business's name. Once you have completed new name research, you will need to file an amendment with your state, showing the change of name. You must also check with the IRS to ensure a new EIN (Employer Identification Number) isn't needed. Once the state has accepted your business name amendment, check with your local entities to ensure updated business licenses aren't needed.
What does it cost to register my business name? 
Business name registry is done when registering the business itself, so it is associated with some state and local fees. These fees include state business registration, which is typically between $50 and $250, as well as local registration fees, which vary between counties and states but can reach $300 or more.
Do I have to put something at the end of my business name? 
Legally, your business will have a suffix that identifies the type of company it operates as. These can include LLC, Corp, LTD, or others. While the appropriate suffix must be used in legal instances, it isn't needed in branding or logos.
Do I have to trademark my business name? 
It is not required to trademark your business name. In many cases, the business registration itself can prevent others from using your business name. However, a trademark prevents future companies from using a directly matching domain and, in some cases, even specific marketing phrasing. It also creates a no-question situation when coming up against infringers.
To learn more on how to start your own cleaning business, check out my startup documents here.
Please note that the contents of this blog are for informational and entertainment purposes only and should not be construed as legal advice. Any action taken based on the information provided in this blog is solely at your own risk. Additionally, all images used in this blog are generated under the CC0 license of Creative Commons, which means they are free to use for any purpose without attribution.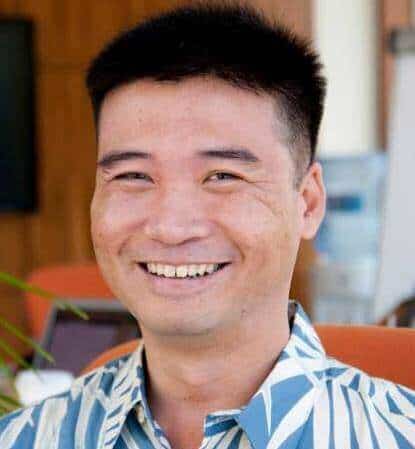 About the author. Entrepreneur and Cleaning Business Fan.
Hi! I am Shawn and I am a happy individual who happens to be an entrepreneur. I have owned several types of businesses in my life from a coffee shop to an import and export business to an online review business plus a few more and now I create online cleaning business resources for those interested in starting new ventures. It's demanding work but I love it. I do it for those passionate about their business and their goals. That's why when I meet a cleaning business owner, I see myself. I know how hard the struggle is to retain clients, find good employees and keep the business growing all while trying to stay competitive.
That's why I created Cleaning Business Boss: I want to help cleaning business owners like you build a thriving business that brings you endless joy and supports your ideal lifestyle.