Starting a house cleaning company can be an exciting and rewarding venture for those with an entrepreneurial spirit and a knack for cleanliness. With the demand for professional cleaning services on the rise, establishing your own business in this industry can offer a steady stream of clients and the potential for growth. However, like any other business, it requires careful planning, organization, and execution. 
To start a house cleaning company, conduct market research, create a business plan, and ensure legal and financial compliance. Define your services and pricing, develop a strong brand and marketing strategy. Set up operations and hire reliable staff, focusing on exceptional customer service for client acquisition and retention.
Market Research and Planning
Before venturing into the house cleaning industry, conducting thorough market research and creating a well-defined business plan is crucial. This initial step enables you to gain a deep understanding of your target market, allowing you to tailor your services and marketing efforts accordingly. By analyzing the local competition, you can identify gaps in the market and develop strategies to differentiate yourself.
Understanding the demographics of your target audience helps you tailor your services to meet their specific needs and preferences. Determining pricing strategies that are competitive yet profitable is essential for sustaining your business in the long run. By conducting comprehensive market research and developing a solid business plan, you lay a strong foundation for success in the house cleaning industry.
Legal and Financial Considerations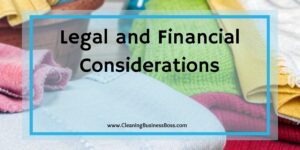 Business Registration
Registering your house cleaning company as a legal entity is a crucial step to establish your business's legitimacy and protect your personal assets. Consult with local authorities or legal professionals to determine the most suitable business structure for your needs. Options may include a sole proprietorship, partnership, or limited liability company (LLC).
Each structure has its advantages and considerations, such as tax implications, liability protection, and management flexibility. Legal professionals can guide you through the registration process, ensuring compliance with local laws and regulations. By registering your business, you create a solid foundation that establishes your credibility and provides a framework for growth and success.
Licenses and Permits
Complying with local regulations is essential to operate a house cleaning business legally and professionally. Research and identify the licenses and permits required in your area, which may include a business license, insurance coverage, and adherence to health and safety regulations. Check with local government offices or regulatory bodies to understand the specific requirements and application processes.
Obtaining the necessary licenses and permits demonstrates your commitment to maintaining high standards and ensures that you can operate without legal complications. Having proper insurance coverage protects your business, employees, and clients in case of accidents or damages.
Accounting and Finances
Establishing a robust financial system is vital for the smooth operation of your house cleaning company. Implement a comprehensive accounting system that includes bookkeeping, invoicing, and tracking expenses. Accurate financial records enable you to monitor your business's financial health, track profitability, and fulfill tax obligations.
Consider consulting with an accountant or utilizing accounting software to streamline these processes and ensure compliance. Proper financial management allows you to make informed decisions, plan for growth, and maintain transparency with clients and stakeholders. By diligently managing your finances, you can establish a solid financial foundation and position your house cleaning business for long-term success.
Check out this article to learn more about the home cleaning service business.
Defining Your Services
Service Offerings
When starting a house cleaning company, it's important to determine the specific types of cleaning services you will provide. Consider the needs and preferences of your target market and select services accordingly. Common offerings include regular house cleaning, deep cleaning, move-in/move-out cleaning, and specialized services like window or carpet cleaning.
Clearly define the scope of each service to avoid misunderstandings with clients. Specify the tasks included in each service, such as dusting, vacuuming, mopping, bathroom cleaning, and kitchen sanitization. This clarity ensures that both you and your clients have a clear understanding of the expectations, helping to build trust and satisfaction.
Pricing Structure
Developing a well-thought-out pricing strategy is crucial for the success of your house cleaning company. Consider various factors when determining your pricing, including the size of the property, the complexity of the cleaning tasks, and the prevailing market rates in your area. Research your competitors to gauge their pricing and find a balance between offering competitive prices and ensuring that they cover your expenses and provide a reasonable profit margin.
It's essential to strike a balance that attracts clients while also sustaining your business financially. Consider offering different pricing tiers based on the level of service required, allowing clients to choose options that best suit their needs and budget.
Service Packages
To cater to a diverse range of client needs and preferences, offering different service packages can be highly beneficial. Consider providing options such as one-time cleaning services, recurring cleaning contracts, or customizable packages. One-time cleaning services are suitable for clients who require occasional cleaning, such as before or after events or seasonal deep cleans.
Recurring cleaning contracts offer the convenience of regular cleaning visits, either weekly, bi-weekly, or monthly, catering to clients seeking consistent maintenance. Customizable packages allow clients to select specific tasks or areas of focus, giving them the flexibility to tailor the cleaning service to their unique requirements. Offering a variety of service packages helps attract a wider client base and enhances customer satisfaction by meeting their specific needs.
Branding and Marketing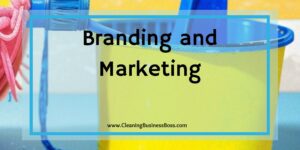 Brand Identity
Creating a strong brand identity is crucial for establishing a reputable house cleaning company. Develop a compelling brand identity that aligns with your company's values and professionalism. Design a memorable logo that reflects your business and can be easily recognized. Choose a color scheme that evokes cleanliness, trust, and professionalism. Develop a unique brand voice that resonates with your target audience, whether it's friendly, professional, or a combination of both. Consistency in brand messaging across all channels will help build recognition and trust among potential clients.
Online Presence
Building a strong online presence is essential in today's digital age. Create a professional website that showcases your house cleaning services, pricing information, and contact details. Optimize your website for search engines to improve visibility in online searches. Utilize social media platforms to engage with potential clients by sharing before-and-after cleaning pictures, client testimonials, and helpful cleaning tips. Engaging and interactive content helps build credibility and allows potential clients to see the quality of your work. Encourage satisfied clients to leave positive reviews and ratings on online platforms to enhance your online reputation.
Local Marketing
While online presence is crucial, don't overlook the power of local marketing strategies. Distribute flyers, brochures, or business cards in your local community, targeting areas with high residential density. Consider advertising in local newspapers, community newsletters, or on local radio stations to reach a wider audience. Forge partnerships with real estate agents, property management companies, or local businesses that can provide referrals.
Networking with these entities allows you to tap into their client base and gain valuable word-of-mouth recommendations. Attend local community events or sponsor local initiatives to increase visibility and enhance your brand's reputation within the community. A well-rounded approach that combines online and local marketing strategies will help generate awareness and attract local clients to your house cleaning business.
Operational Setup and Staffing
Equipment and Supplies
Investing in high-quality cleaning equipment and supplies is essential for delivering top-notch service. Purchase reliable cleaning tools, such as vacuums, mops, microfiber cloths, and scrub brushes, that are suitable for different surfaces and cleaning tasks. Opt for environmentally friendly cleaning products to minimize the impact on the environment and meet the preferences of eco-conscious clients.
Ensure you have an adequate supply of cleaning agents, disinfectants, and safety gear like gloves and masks to maintain a clean and safe working environment. By using quality equipment and environmentally friendly products, you not only provide effective cleaning but also showcase your commitment to delivering a professional and responsible service.
Hiring Staff
Decide whether you will operate as a solo cleaner or expand your business by hiring employees. If you choose to hire staff, develop a thorough hiring process. This process should include conducting interviews, performing background checks, and verifying references to ensure you hire reliable and trustworthy individuals. Provide comprehensive training programs to equip your staff with the necessary cleaning techniques, customer service skills, and knowledge of your company's standards. Consistent training ensures that your staff can deliver high-quality and consistent service to your clients. Additionally, establish clear communication channels and expectations to maintain effective teamwork and a positive work environment.
Scheduling and Logistics
Efficient scheduling and logistics are crucial for managing client appointments and optimizing your cleaning operations. Implement a system that allows you to manage and track client appointments effectively, ensuring punctuality and reliability. Consider using digital calendars or scheduling software to streamline your scheduling process and easily manage multiple appointments.
Optimize travel routes to minimize time and expenses by grouping nearby appointments together. Communicate clearly with clients about the estimated duration of cleaning tasks to set expectations and avoid potential scheduling conflicts. By implementing effective scheduling and logistics systems, you can maximize productivity, enhance customer satisfaction, and maintain a smooth workflow within your house cleaning company.
Check out this another article about own home cleaning service.
Client Acquisition and Retention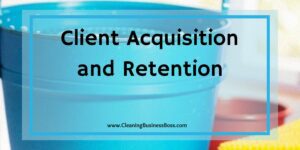 Exceptional Customer Service
Providing exceptional customer service is a key factor in the success of your house cleaning company. Aim to exceed client expectations by delivering a professional and personalized experience. Respond promptly to inquiries and booking requests, demonstrating your attentiveness and reliability. Address any client concerns or complaints professionally and promptly, taking proactive steps to resolve issues and ensure customer satisfaction. Maintain clear and timely communication throughout the cleaning process, providing updates and confirming appointments. By prioritizing customer service, you foster a positive client experience, which can lead to repeat business and positive word-of-mouth referrals.
Client Retention Strategies
Implementing effective client retention strategies is essential for building a loyal client base. Consider offering incentives such as loyalty programs, where clients earn rewards or discounts for recurring business. Implement referral programs that reward clients who refer new customers to your company. Offer discounted rates for recurring clients to encourage them to continue using your services. Regularly check in with clients to ensure their satisfaction and address any concerns or issues promptly. Actively seek client feedback through surveys or follow-up calls to identify areas for improvement and demonstrate your commitment to providing the best service possible.
Quality Assurance
Maintaining high-quality standards is crucial for building a positive reputation and fostering long-term client relationships. Conduct periodic quality checks to ensure that cleaning tasks are performed to your company's standards. Seek client feedback on their satisfaction levels and areas where improvements can be made. Act on client feedback and address any issues promptly and professionally.
Continuously train and educate your staff to ensure they are up to date with the latest cleaning techniques and industry standards. By consistently delivering exceptional service and addressing client concerns, you build trust and confidence in your house cleaning company, enhancing client retention and reputation.
Summary
Starting a house cleaning company requires careful planning, attention to detail, and a commitment to delivering exceptional service. By conducting thorough market research, defining your services, implementing effective marketing strategies, and prioritizing customer satisfaction, you can establish a successful and profitable cleaning business. Remember, continuous learning, adapting to market demands, and maintaining professionalism are key to long-term growth and success in the house cleaning industry.
Frequently Asked Questions
Should I hire employees or work alone as a cleaner?
It depends on your capacity, business goals, and demand. Starting alone can keep costs low, but hiring employees allows for scalability. Assess your needs and plan accordingly.
What cleaning equipment and supplies are essential to start with?
Basic supplies include cleaning agents, microfiber cloths, mops, vacuums, and safety gear. Invest in high-quality equipment and eco-friendly cleaning products for better results and client satisfaction.
How can I ensure customer satisfaction and maintain quality standards?
Train your staff (if applicable) in proper cleaning techniques, conduct quality checks, seek feedback, and address any concerns promptly. Consistent communication and exceptional service are key.
To learn more on how to start your own cleaning business, check out my startup documents here.
Please note that the contents of this blog are for informational and entertainment purposes only and should not be construed as legal advice. Any action taken based on the information provided in this blog is solely at your own risk. Additionally, all images used in this blog are generated under the CC0 license of Creative Commons, which means they are free to use for any purpose without attribution.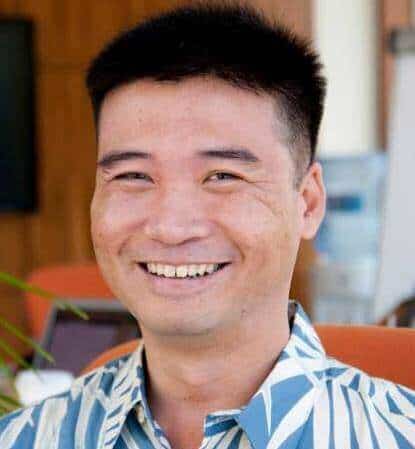 About the author. Entrepreneur and Cleaning Business Fan.
Hi! I am Shawn and I am a happy individual who happens to be an entrepreneur. I have owned several types of businesses in my life from a coffee shop to an import and export business to an online review business plus a few more and now I create online cleaning business resources for those interested in starting new ventures. It's demanding work but I love it. I do it for those passionate about their business and their goals. That's why when I meet a cleaning business owner, I see myself. I know how hard the struggle is to retain clients, find good employees and keep the business growing all while trying to stay competitive.
That's why I created Cleaning Business Boss: I want to help cleaning business owners like you build a thriving business that brings you endless joy and supports your ideal lifestyle.