Starting your own cleaning business can be a rewarding and lucrative venture. With the increasing demand for professional cleaning services in both residential and commercial sectors, there are ample opportunities to establish a successful cleaning business. However, embarking on this journey requires careful planning, a solid business strategy, and a commitment to providing exceptional service. 
You can start your cleaning business by identifying your niche, conducting market research, creating a business plan, addressing legal and financial considerations, optimizing operations, and implementing effective marketing strategies. With dedication and a strategic approach, you can launch a successful cleaning business.
Research and Planning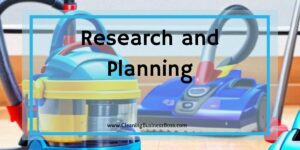 Before diving into the cleaning business, it's crucial to conduct thorough research and create a comprehensive plan. This section will outline the key steps involved in this initial phase.
Identify Your Niche:
When starting a cleaning business, it's crucial to identify your niche to differentiate yourself in the market. Consider the type of cleaning services you want to offer. Will you focus on residential or commercial cleaning? Are there specific areas or specialties you want to cater to, such as carpet cleaning, window cleaning, or post-construction cleaning? By identifying your niche, you can tailor your services to meet specific customer needs and preferences. This focused approach will also help you target your marketing efforts effectively, allowing you to reach the right audience and stand out from the competition.
Conduct Market Research:
Market research is vital to understanding the demand for cleaning services in your local area. Analyze the market to identify the size of the market, competition, and pricing trends. Determine the target market segments you want to serve, such as households, offices, or specific industries like healthcare or hospitality. By understanding the needs, preferences, and pain points of potential clients, you can tailor your services and marketing strategies to effectively address their specific requirements. Market research also provides insights into emerging trends and opportunities that can help you position your cleaning business for success.
Create a Business Plan:
Developing a detailed business plan is crucial for the success of your cleaning business. Outline your mission, vision, and core values to guide your business operations. Define your target market, including demographic information and specific customer segments. Establish a pricing structure that is competitive yet profitable. Detail your marketing strategies, including how you will reach and attract customers.
Conduct a SWOT analysis to identify the strengths, weaknesses, opportunities, and threats of your business. This analysis will help you understand your competitive advantages, address potential weaknesses, capitalize on opportunities, and mitigate risks. Finally, include financial projections, such as startup costs, revenue forecasts, and profitability analysis, to ensure the financial viability of your cleaning business.
Check out this article to get an idea of the steps in starting your cleaning business.
Legal and Financial Considerations
Once you have a solid plan in place, it's essential to address the legal and financial aspects of your cleaning business. This section will cover the fundamental considerations to ensure compliance and financial stability.
Business Structure and Registration:
Choosing the right legal structure for your cleaning business is important for various reasons. Evaluate options such as a sole proprietorship, partnership, or LLC based on factors like liability protection and tax implications. Register your business name with the appropriate local authorities, ensuring it is unique and complies with legal requirements. Obtain any necessary permits or licenses required in your jurisdiction, such as a general business license or specific industry permits. Adhering to legal regulations from the start will provide a solid foundation for your business and help you avoid potential legal issues.
Insurance Coverage:
Protecting your cleaning business with adequate insurance coverage is crucial. General liability insurance safeguards against third-party injuries or property damage during your operations. Workers' compensation insurance provides coverage for employees in case of work-related injuries or illnesses. Commercial property insurance protects your business assets, equipment, and premises. Evaluate your specific needs and consult with an insurance professional to determine the appropriate coverage for your cleaning business. Insurance coverage provides peace of mind and financial protection, minimizing potential risks and liabilities.
Financial Management:
Establishing proper financial management practices is essential for the success and growth of your cleaning business. Open a separate business bank account to keep personal and business finances separate, simplifying record-keeping and ensuring accurate financial reporting. Implement a reliable bookkeeping system or consider using accounting software to track income, expenses, and invoices efficiently.
This helps you monitor your cash flow, identify trends, and prepare accurate financial statements. Consult with an accountant to ensure compliance with tax regulations, maximize tax deductions, and receive guidance on financial planning and optimizing your business's financial operations. Effective financial management sets the groundwork for sustainable growth and financial stability.
Operations and Resources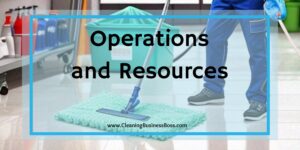 The operational aspects of your cleaning business are vital to providing high-quality services and maintaining customer satisfaction. This section will delve into the essential elements of running your operations smoothly.
Equipment and Supplies:
Determine the specific cleaning equipment and supplies required for your cleaning business based on the services you offer. This may include essential items like vacuum cleaners, mops, brooms, cleaning solutions, and safety equipment. Research suppliers, compare prices, and assess the quality and durability of the products they offer. Consider factors like reliability, warranty, and customer reviews when selecting vendors. It's important to invest in high-quality equipment and supplies to ensure efficient and effective cleaning operations, as well as customer satisfaction.
Staffing and Training:
Decide whether you will work as a solo cleaner or hire employees to assist you. If you choose to hire, establish a recruitment process that includes job postings, interviews, and background checks to ensure you hire trustworthy and competent individuals. Provide comprehensive training to your staff to familiarize them with your cleaning procedures, safety protocols, and customer service expectations. Ongoing training and skill development are also crucial to keep up with industry best practices and emerging trends. By investing in the training and development of your staff, you can deliver consistent and high-quality cleaning services.
Service Standards:
Establishing clear service standards is essential to meet customer expectations and maintain consistency in your cleaning operations. Define the specific tasks and procedures that should be followed during each service. Develop a checklist or cleaning schedule that outlines the cleaning tasks to be performed in each area or room. This ensures that no task is overlooked and allows for efficient time management. Regularly communicate and reinforce these service standards to your staff to maintain consistent service quality. By setting clear expectations and following a systematic approach, you can deliver reliable and satisfactory cleaning services to your clients.
Marketing and Branding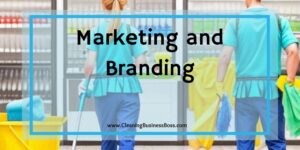 Effective marketing and branding strategies are crucial for attracting clients and establishing a reputable brand identity. This section will explore various marketing approaches to promote your cleaning business successfully.
Branding and Logo Design:
Building a strong brand identity is crucial for your cleaning business. Create a brand that reflects your professionalism, reliability, and commitment to delivering high-quality services. Design a memorable logo that represents your business values and visually captures the essence of your cleaning services. Develop a consistent visual identity that carries through all your marketing materials, including your website, business cards, and promotional materials.
Choose colors, fonts, and imagery that align with your brand image and appeal to your target audience. A strong brand identity helps you stand out from competitors and builds trust with potential customers, enhancing your overall reputation.
Online Presence:
Establishing a strong online presence is essential for the success of your cleaning business in today's digital age. Build a professional website that showcases your services, highlights customer testimonials, and provides contact information for potential clients to reach you easily. Optimize your website for search engines by incorporating relevant keywords and ensuring it loads quickly and is mobile-friendly.
This helps improve your visibility in local search results, making it easier for potential customers to find you. Leverage social media platforms to engage with your audience, share valuable content related to cleaning tips and industry insights, and build a community of followers. Engaging online allows you to connect with potential clients and showcase your expertise, further enhancing your brand reputation.
Networking and Referrals:
Networking is a powerful tool for growing your cleaning business. Attend local business events, join industry associations, and actively engage with potential clients and professionals in related fields. Build relationships with real estate agents, property managers, and other businesses that can provide referrals. By establishing partnerships and networking with these individuals, you can expand your client base and gain valuable recommendations.
Participating in industry events and associations also allows you to stay updated on industry trends, exchange knowledge, and build credibility within the cleaning industry. Cultivating a strong network and referral system can greatly contribute to the growth and success of your cleaning business.
Advertising and Promotions:
To reach your target audience effectively, consider various advertising and promotional strategies. Targeted online advertising through platforms like Google Ads or social media channels can help you reach potential clients searching for cleaning services in your area. Local newspaper ads or classified listings can increase your visibility in the community. Direct mail campaigns, such as sending brochures or postcards to targeted households or businesses, can also generate leads.
Consider offering promotional discounts or special offers for first-time clients to incentivize them to try your services. Implement a referral program where satisfied clients are rewarded for referring your cleaning business to others. Word-of-mouth marketing remains a powerful tool, so encouraging referrals can help you expand your customer base and build trust within the community.
Check out our article to learn how to start your cleaning business with no money, no excuses.
Summary
Starting a cleaning business requires careful planning, a strong work ethic, and a commitment to delivering exceptional service. By conducting thorough research, addressing legal and financial considerations, optimizing your operations, and implementing effective marketing strategies, you can establish a successful cleaning business.
Remember to continually adapt to changing market dynamics, invest in customer satisfaction, and prioritize the growth and improvement of your business. With determination and perseverance, your cleaning business can thrive in a competitive industry.
Frequently Asked Questions
Should I hire employees or work as a solo cleaner?
Decide based on your business goals and capacity. Working alone may be suitable initially, but as your business grows, hiring employees can help you expand and handle larger projects.
How do I ensure quality service delivery?
Establish service standards and procedures, develop a checklist, and provide thorough training to your staff. Regularly monitor and evaluate the quality of your services to maintain customer satisfaction.
What cleaning equipment and supplies do I need?
Determine the specific equipment and supplies based on your service offerings. This may include vacuum cleaners, mops, cleaning solutions, and specialized tools. Purchase reliable and high-quality products from reputable suppliers.
To learn more on how to start your own cleaning business, check out my startup documents here.
Please note that the contents of this blog are for informational and entertainment purposes only and should not be construed as legal advice. Any action taken based on the information provided in this blog is solely at your own risk. Additionally, all images used in this blog are generated under the CC0 license of Creative Commons, which means they are free to use for any purpose without attribution.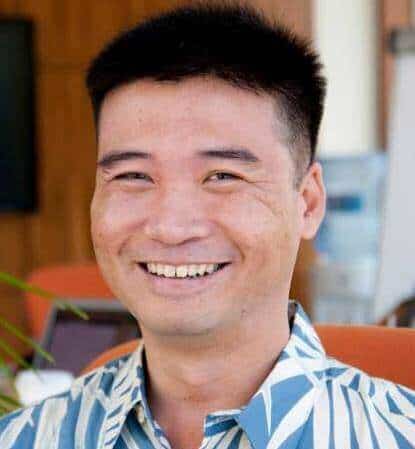 About the author. Entrepreneur and Cleaning Business Fan.
Hi! I am Shawn and I am a happy individual who happens to be an entrepreneur. I have owned several types of businesses in my life from a coffee shop to an import and export business to an online review business plus a few more and now I create online cleaning business resources for those interested in starting new ventures. It's demanding work but I love it. I do it for those passionate about their business and their goals. That's why when I meet a cleaning business owner, I see myself. I know how hard the struggle is to retain clients, find good employees and keep the business growing all while trying to stay competitive.
That's why I created Cleaning Business Boss: I want to help cleaning business owners like you build a thriving business that brings you endless joy and supports your ideal lifestyle.